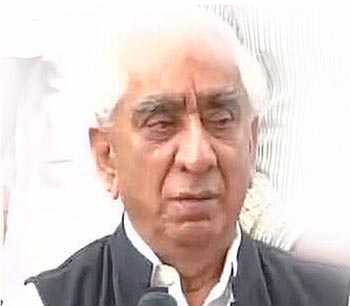 New Delhi, March 23 :Veteran BJP leader Jaswant Singh warned Sunday that the party will pay a price due to internal convulsions that has deprived him of a Lok Sabha ticket.

Denied permission to contest from Barmer in Rajasthan, a peeved Jaswant Singh told IANS that there will be "repercussions" due to the differences that have come to the fore in the party.

"The leadership of the party needs to reflect deeply on the reasons why this situation has arisen," the Lok Sabha member from Darjeeling said over telephone from Rajasthan.

"There are differences in the party which have come to the surface. So there are bound to be repercussions. The party will have to bear this effect," added the former external affairs minister.

Jaswant Singh, who Saturday urged activists to differentiate between the "real BJP" and "fake BJP", Sunday told IANS: "BJP members should introspect how the party has failed in its responsibilities.

"Party leaders have forgotten their responsibilities, ideals and obligations towards the people and to the party," he said, without taking any names.

The denial of ticket to Jaswant Singh, who for years has been one of the better known leaders of the Bharatiya Janata Party, has fuelled widespread anger in Barmer.

Party activists have attacked and torn banners of BJP and its prime ministerial candidate Narendra Modi. Jaswant Singh supporters have also riled against Rajasthan Chief Minister Vasundara Raje who they say is mainly to blame for what has happened.

Jaswant Singh told IANS: "The intellectual territory of the BJP has been encroached by new entrants. (These) elements don't belong to the BJP."

He added: "The people (of Barmer) are angry and they know that the BJP has embraced a leader who until recently was abusing the party."

Jaswant Singh's reference was to Col. Sonaram, who recently joined the BJP after quitting the Congress and has been declared the candidate from Barmer.

Jaswant Singh represented Darjeeling in West Bengal in the outgoing Lok Sabha. The BJP has this time fielded S.S. Ahluwalia, also formerly of the Congress, from there.

Asked by IANS, Jaswant Singh refused to say whether or not he will contest the election and, if yes, in which capacity.

"I shall be going to my village tomorrow and will talk to the people there and will act accordingly," he said.

Boisterous supporters received him warmly as he left Jodhpur Sunday by road for his village Jasol in Barmer district. He was garlanded by slogan-shouting BJP activists. He addressed them at many places.

BJP leader Sushma Swaraj, who heads the opposition in the Lok Sabha, has protested the denial of ticket to Jaswant Singh.

Jaswant Singh has not been the only headache amid the election campaign for the BJP.

Until he was re-nominated from Gandhinagar in Gujarat, it was widely speculated that BJP patriarch L.K. Advani might opt to contest from Bhopal in view of alleged differences with Modi.
(IANS)