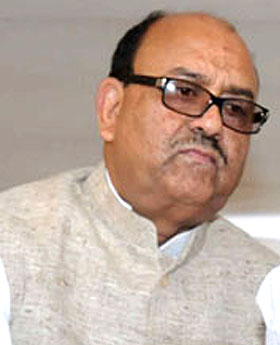 Patna,(BiharTimes): Bihar chief minister Nitish Kumar continues to face embarrassment from those very close to him. After a series of resignations and expulsions, latest of Janata Dal (United) candidate of Seohar, Sabir Ali, it is the turn of one of the senior most ministers in his cabinet, Narendra Singh, to directly hit out at the party's Jamui candidate, Uday Narayan Chaudhary, and that too in his presence.
Speaking at an election meeting at Khaira in the constituency and that too in front of chief minister himself and Chaudhary he did some "plain speaking."
His utterances embarrassed Nitish so much that he went on defensive. The chief minister tried to calm down by stating that he always consults him while taking all the major decisions.
Narendra Singh, while referring to Chaudhary said some leaders sitting on the dais are spreading lies about him that he was trying to defeat the party candidate from Jamui reserved constituency. "But if I decide then your candidate will lose election and even forfeit his deposit," Singh told Nitish.