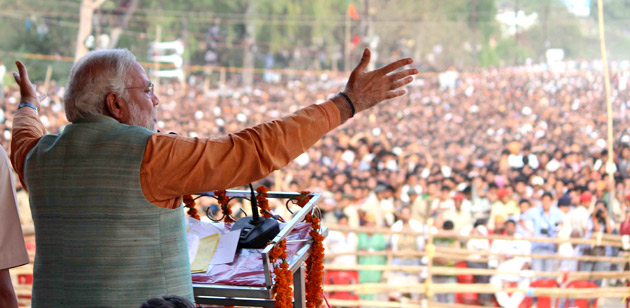 Patna,(BiharTimes): The Bharatiya Janata Party's prime ministerial candidate, Narendra Modi's rally at Gaya on March 27 was totally different from his Hunkar Rally of October 27 in Patna, where the crowd continued to listened to him patiently notwithstanding about half a dozen bomb blasts in and around the venue.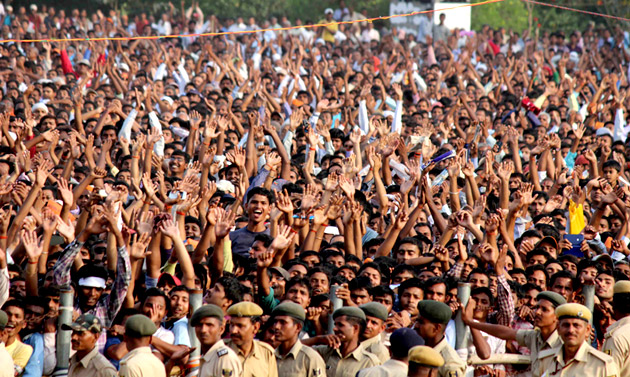 In Gaya right from the landing of helicopter at Gaya's Gandhi Maidan till the end the crowd was restive. They not only targeted the police, but also the mediapersons and the BJP workers––some of them were seen bleeding.
The overenthusiastic crowd menacingly surged ahead towards the stage breaking the barricades in the process. When the police tried to form the human wall they were attacked with slippers, stones, bamboo sticks, plastic chairs etc.
Not only the Bihar Police but also the central para-military forces and Gujarat Police personnel were deployed at the venue, but they were helpless. When the police resorted to a mild lathicharge the crowd retaliated with whatever they could get.
The impatient crowd forced Lok Janshakti Party chief Ram Vilas Paswan to abruptly cut short his speech. Even Narendra Modi, who later rose to speak was not in his full flow.
At one point the organisers asked the police to politely deal with the crowd and not use force. The police finally withdrew from the scene altogether.
While the BJP leaders alleged that it was the lack of proper security which led to the blasts during the Hunkar Rally exactly five months back in Patna in Gaya it was the over-protection of Narendra Modi and other leaders, which irked the BJP supporters, who wanted to see NaMo without any obstruction. The presence of so many cameramen added fuel to the flame.
Gaya-watchers were surprised to find very few women in the crowd. "They could be counted on finger," one of them told BiharTimes after the rally. This raised a question: whether the women folk were really aware that any trouble could happen.
However, serveral BJP leaders blamed the police for not handling the situation in a better manner and for provoking the crowd. But the truth is that the BJP supporters were largely to be blamed for whatever happened during the election rally.