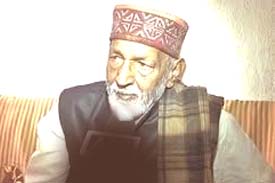 Patna, March 28 (IANS) BJP's prime ministerial candidate Narendra Modi Friday phoned party leader and four-time Bihar MP Lal Muni Choubey and convinced him not to contest the Lok Sabha polls as an Independent candidate.

"In view of Modi's request, I have decided I will not contest as an Independent candidate from Buxar," Choubey told media persons here.

Choubey was upset after being denied a Bharatiya Janata Party ticket for the polls and had filed his nomination papers as an Independent candidate.

"I will withdraw my nomination papers following Modi's request," he said.

Choubey said Modi telephoned him three-four times and persuaded him not to contest as an Independent.

The BJP has fielded Ashwini Kumar Chaubey, who was health minister in the Nitish Kumar government and who hails from Bhagalpur, from the Buxar constituency.

Lal Muni Choubey also said he was hurt by the way the party was treating its stalwarts like L.K. Advani and Jaswant Singh.

"I cannot tolerate humiliation of (Atal Bihari) Vajpayee, Advani and Jaswant in the party," he said.