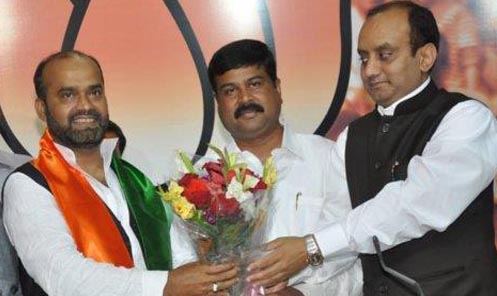 Patna,(BiharTimes): If Rashtriya Janata Dal, which is fighting its last ditch battle to regain its hold, can stall the entry of Shivanand Tiwary to the party notwithstanding his old association with the party chief Lalu Prasad Yadav, what prevented the BJP from stopping the entry of controversial Sabir Ali into the party-fold?
Ironically, Sabir was offered red-carpet welcome when the party's old guards and dedicated leaders like Chandra Mohan Rai and Lalmuni Choubey were forced to retire from the electoral politics after not only being denied ticket, but humiliated and insulted.
Incidentally, it was only after the Bharatiya Janata Party's vice president, Mukhtar Abbas Naqvi, strongly denounced the party's move to induct a person with the terrorists' link that some senior party leaders started opposing Sabir's entry.
The big question is: why the BJP, which is so confident of victory, going into alliance with the party like LJP and inducting personalities like Pramod Muthalik of Sri Ram Sene and Sabir Ali and that too at the cost of old and committed leaders, who helped build the party from scratch.
Till recently Sabir Ali used to condemn Narendra Modi and BJP leaders in return would accuse him of his link with Dawood Ibrahim or D-Company. Even Naqvi referred to it in his statement.
Bihar-watchers are of the view that if the BJP thinks that by inducting Sabir Ali it would get another Muslim face than the party has made a big mistake. "Sabir Ali can not even win election from the Muslim-dominated ward or panchayat. Like King Mahendra he can only purchase Rajya Sabha ticket. First he managed it from the LJP and later from the Janata Dal (United). He would just be a liability to the BJP," a political observer, who wished not to be quoted, told the BiharTimes.
It was not too long back that the BJP leader Harendra Pratap had said that he had all the documents to suggest that Sabir Ali's name figured in the Gulshan Kumar murder case. Now the same man is in the BJP.
Analysts are surprised as to why the BJP is committing one blunder after another. They are of the view that the party is fast losing the support. The dedicated party workers are feeling let down as they can not defend Sabir Ali, Ram Vilas Paswan, Suraj Bhan Singh, Rama Singh, and dreaded criminal like Satish Dubey, who was preferred over Chandra Mohan Rai in the allotment of ticket for Valmikinagar parliamentary constitutency.
They are of the view that BJP's "be-sabri" (impatience and hurry) to throw the door wide open for a man like Sabir Ali may prove dear. Even if the party cancels his membership the harm has been done as in the case of Pramod Muthalik.