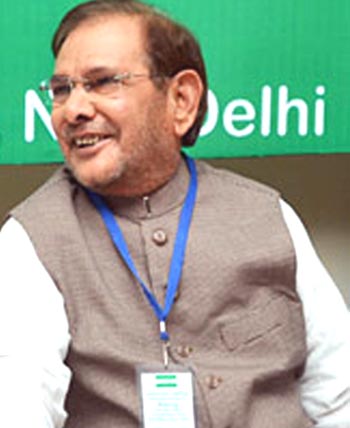 Patna,(BiharTimes): Though the Bihar BJP chief, Mangal Pandey, and former minister Nand Kishore Yadav welcomed Janata Dal (United) chief, Sharad Yadav's statement that Nitish Kumar and Lalu Prasad Yadav have not come out of the politics of casteism, analysts are a bit surprised over his remarks.
They question as to how, of all the politicians, Sharad accuse Nitish and Lalu, when during the high-time of the pro-Mandal movement he was considered as its ideologue. It was Sharad who stoutly opposed the Women's Reservation
Bill as he demanded quota for women of backward castes.
It was none else but Sharad Yadav, who went to the house of murder-convict Anand Mohan Singh and touch his mother Gita Devi's feet just because he wanted to woo the Rajput voters to his side in Madhepura. Not only that he claimed that it was at his instance that the Samajwadi Party leader, Mulayam Singh Yadav, gave ticket to Mohan's wife, Lovely Anand, from Seohar Lok Sabha seat.
"Had Rajput been in insignificant number in Madhepura Sharad would not have bothered to woo the leader of this caste. This clearly shows that he himself has not risen above the caste," said a commentator.
It was predominance of Yadavs in Madhepura, which attracted Sharad, originally from Madhya Pradesh, to contest poll from here for the first time in 1991. It was none else but the same Lalu Prasad, who brought him here and ensured his victory as the then Janata Dal was virtually wiped out in rest of the country after the split.
Later it was the same Nitish Kumar, who ensured his victory as Janata Dal (United) candidate in the 2009 election.
No doubt his election speech in Gaighat in Muzaffarpur created storm in political circle and the BJP tried to fish in the troubled water of the JD(U) the truth is that today no politician can say that he or she is above the caste politics.
comments powered by