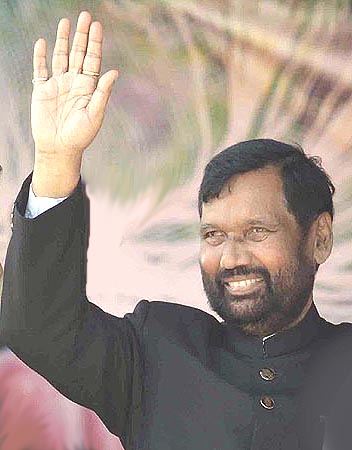 Thirty-seven years ago (in 1977) Hajipur entered the Guinness Book of World Record when Janata Party candidate, Ram Vilas Paswan, won by a record margin to enter Parliament for the first time.
In 2014 it is in the news once again, but for a very differemt reason. The Janata Dal (United) gave ticket to the oldest candidate of the country, 93-year old Ram Sundar Das.
In 2009 it is the same Nitish Kumar, who denied ticket to George Fernandes, a mentor of a sort, on the ground of old age and poor health. Yet he contested and lost. The party also denied ticket to Digvijay Singh, a close associate of George. He, however, won as an Independent from Banka.
Ironically, while George is still alive, Digvijay, who was in a perfect health, died in June 2010.
Anyway the contest in Hajipur is very different this time. Lok Janshakti Party leader Ram Vilas Paswan is in a very tight position, not just because of the challenge from the sitting MP Ram Sundar Das, but also from Congress party's Sanjiv Prasad Toni, who many Hajipur watchers feel, may prove a dark horse.
If the numerically strong M-Y combination works and Toni gets a few extra votes, Ram Vilas may be in deep trouble. But it is not just losing or winning from here which is at stake for him.
If LJP wins here Ram Vilas Paswan's decision to side with the BJP will be vindicated. But if he loses, than there would be a big question mark over his future political career as well as that of his son Chirag. Anyhow he needs to win the seat for the survival of the LJP.
Had Ram Vilas been with the RJD he might have got the support of Yadavs and Muslims (11 per cent, that is 1,73,167 out of total 15,74,244 voters), but not of upper castes. Now he is getting full support of the upper castes, but hardly of the Muslims and Yadavs. However, he enjoys support of Dussadhs (Paswans), though the Congress candidate too belongs to the same caste.
The Mahadalits and Extremely Backward Castes were till recently with the Janata Dal (United), but this time there appears to be division in votes of these two sections. A section of them may go to Ram Vilas Paswan and some even to the Congress.

As Ram Vilas has acquired the image of party-hopper he has certainly lost his credibility both among the masses and in the political class too. Most of the upper castes who are voting for him are not doing so for him, but for Narendra Modi.
If in any case he or his party does not perform well after joining the BJP––after abusing its PM nominee for about 12 years––there will be no scope left to return to the RJD-Congress camp.
His party has not a single MLA in Bihar, yet the BJP gave it seven seats, just for the larger political gain.
The truth is that he owes his present Rajya Sabha seat to none else but Lalu Prasad, who denied ticket to his own party leader in 2010 to support him. LJP was not in position of electing a single Rajya Sabha MP as it has too few MLAs then.
Unlike Ram Sundar Das and Toni the LJP leader has much more to lose or win in this election.
If tension is writ large on his face it is quite natural. After all three out of seven candidates of LJP are from his family. The fourth one, Mahboob Ali Qaiser, has crossed over from the Congress while Rama Singh and Veena Devi, wife of Suraj Bhan are two upper caste faces of the party. The seventh one is Satya Nand Sharma, contested from Nalanda.
If none from the family wins and the party wins one or two seats than too it would be quite embarrassing. He would lose his clout in his own party.
So it is a sort of do or die battle for him.