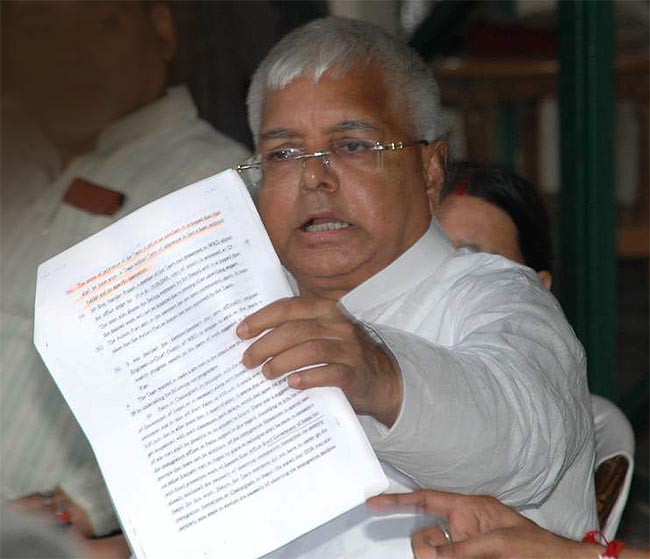 Patna, May 6 (IANS) Seven Lok Sabha constituencies of north Bihar - known for its fertile land and high rate of poverty and migration - go to the polls May 7 and this phase is crucial for RJD chief Lalu Prasad whose wife Rabri Devi is in the fray.

Two out of four seats that RJD won in 2009 fall in this fifth and penultimate phase of elections in the state. Lalu's personal stake is also high as his wife and former chief minister Rabri Devi is in the field for his traditional seat of Saran.

More than 10 million voters will elect their representatives in Hajipur, Saran, Maharajganj, Muzaffarpur, Sitamarhi, Sheohar and Ujiyarpur.

Lalu's RJD had won the Saran and Maharajganj seats when it contested alone last time.

With the Congress joining hands with it and Lalu claiming that his traditional social support base of his castemen Yadav and Muslim is intact, this is a big challenge for RJD whether it will improve its performance or its rival the BJP-led alliance and Chief Minister Nitish Kumar's JD-U, which is contesting alone this time, will stop its revival gameplan.

Lalu himself had won from Saran but was disqualified after being convicted in a multi-crore fodder scam last year.

JD-U won four of the seven seats while its then ally Bharatiya Janata Party had won one seat.

Both the parties are contesting the polls without each other's support for the first time since 1996, after the JD-U ended its 17-year alliance with the BJP last year.

Like the last four-phase polls that ended more or less peacefully, the caste factor will be again at play.

BJP's hopes lie with a wave in favour of its prime ministerial candidate Narendra Modi.

"Nothing will work this time except the Modi wave, every one from upper caste to backward castes and Dalits to Mahadalits are supporting the BJP for Modi," BJP candidate from Saran Rajiv Pratap Rudy, a former union minister who is contesting against Rabri Devi, told IANS over telephone.

After being defeated twice in 2004 and 2009 by Lalu, Rudy is confident to win this time thanks to the Modi wave.

"Even Lalu's castemen are supporting Modi," he said.

Rudy frankly admitted the BJP is banking heavily on Modi, and his party hopes to win more seats than in 2009.

Leaders of JD-U are also sure to retain all the party's seats.

Probably sensing the difficult challenge, Lalu has been campaigning vigorously in Saran and neighbouring areas like Maharajganj for last few days.

"Laluji has been working overtime by campaigning for 15 to 16 hours, addressing 10 to 12 election meetings, to ensure the victory of party candidates, including Rabri Devi," a RJD leader close to him told IANS.

Prominent leaders in the fray are LJP chief Ram Vilas Paswan, Rabri Devi, Rajiv Pratap Rudy, Prabhunath Singh, Akhilesh Prasad Singh, Salim Perwez, Sahid Ali Khan, Lovely Anand and Rama Devi.

The BJP is confident of support from the upper castes - Brahmins, Bhumihar and Rajputs - and also hopes to garner support of backward castes and Dalits, thanks to its alliance with the Lok Janshakti Party (LJP) of Ram Vilas Paswan and the Rashtriya Lok Samata Party (RLSP) of Upendra Kushwaha.

JD-U is banking on Nitish Kumar's development card and his social engineering of extreme backward castes, Mahadalits and Muslims.

In Maharajganj, Prabhunath Singh of RJD is seeking re-election. Last year, he defeated JD-U's P.K. Shahi in the by-election by over 135,000 votes.

In 2009, he lost as the JD-U candidate to Uma Shankar Singh of the RJD. The latter died, necessitating re-election. Prabhunath crossed over to the RJD Aug 7, 2010.

In Hajipur, JD-U candidate and sitting MP Ram Sundar Das, 93, is contesting against Ram Vilas Paswan.
comments powered by