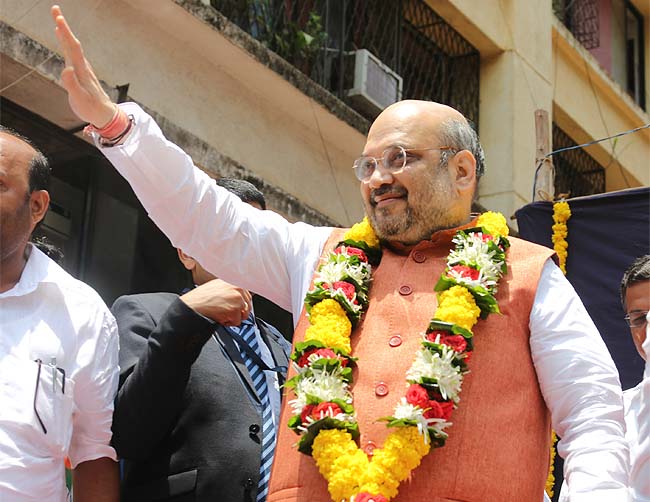 Patna,(BiharTimes): For Bharatiya Janata Party president Amit Shah All India Majlis-e-Ittehadul Muslimeen (AIMIM) chief Asaduddin Owaisi, whose party is till now struggling to even find 24 candidates in Bihar, is a bigger opponent than RJD's Lalu Prasad Yadav in the upcoming Assembly elections.
In an exclusive interview to Hindustan, Shah denied all charges that the leader of AIMIM is a BJP "agent".
Shah claimed that the NDA would win a two-thirds majority in Bihar.
"Leaders of all our associate parties are meeting people and assuring them that the BJP-led coalition will form a government this time around," Shah was quoted in the daily.
On Nitish Kumar he said the Bihar chief minister had formed an alliance with Lalu Yadav and the Congress only because of his sheer greed of power.
"If he was even a little bit concerned about the leaders of the past, then he would not have overlooked the ideals of Ram Mohar Lohia, Jaya Prakash Narayan and Karpoori Thakur and joined hands with the Congress. The followers of these leaders have crushed their dreams," the BJP president said.
"If Nitish was concerned about issues and ideals, he would have fought it out alone and never have sided with Lalu, who was his opponent for 20 years," he told the interviewer, on a campaign trail from Patna to Katihar.
Analysts are not surprised as Amit Shah spoke these words while on way to Seemanchal, from where AIMIM is going to contest. They are of the view that as Owaisi has failed to create an atmosphere in his favour nor is BJP succeeding in whipping up counter-polarisation it was natural for Amit Shah to take the name of AIMIM chief.
Independent observers are of the view that political leaders are free to say what they like, but the truth is that Lalu Prasad and his allies are very much in the race, while Owaisi's outfit may have to struggle to even open its account.
comments powered by