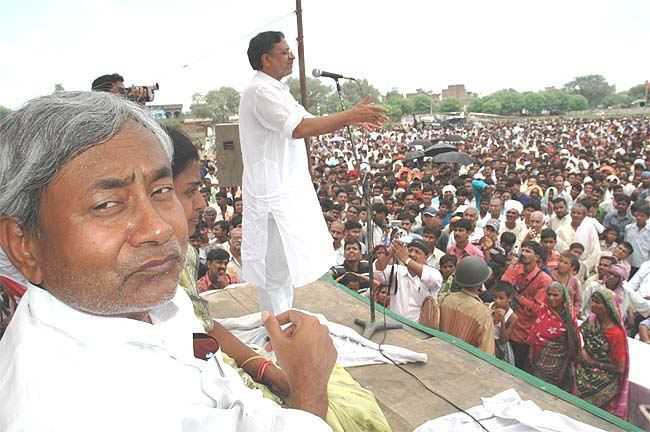 Over the last couple of decades Bihar chief minister Nitish Kumar has perfected the art of tight-rope walking. Between 1996 and 2013 he remained strongly associated with the 'communal' BJP. Post-2014 Lok Sabha election defeat he jumped on the bandwagon of 'casteist' RJD.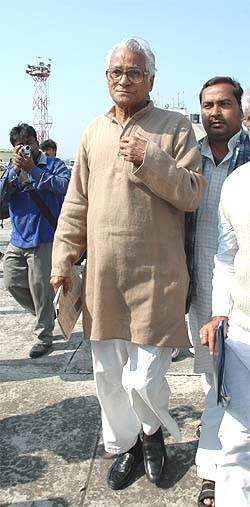 Samata Party, the earlier version of Janata Dal (United), which was floated by him and George Fernandes, was the first non-Congress party to provide secular legitimacy to the BJP in 1996. In the immediate post-Babri Masjid demolition years the BJP was considered as a political pariah. Shiv Sena and Shrimoni Akali Dal were its only allies.
Nitish and George paved the way for other secular parties to enter into an alliance with the BJP in 1998. Thus the National Democratic Alliance came into existence.
During the Gujarat riots of 2002 Nitish opted to keep his mouth shut. Later he appealed to the then chief minister, Narendra Modi, to move to Centre to play a much important role.
After serving in the Vajpayee cabinet, Nitish headed a JD(U)-BJP government for over seven and a half years. Some of the saffron party ministers in his cabinet were hardline RSS men. His own party had its quota of ultra secularists.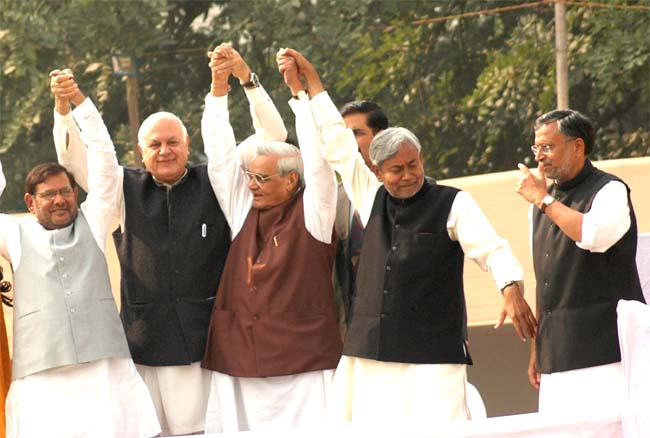 For years Nitish had to carry on with one foot in each boat. Gradually things started taking a different shape. On a few occasions ministers/leaders of BJP and Janata Dal (United) would clash in television debates. One such verbal duel between his minister, Giriraj Singh of the BJP, and the then JD(U MP, Monazir Hasan, is still fresh in many minds. The then JD(U) spokesman and Rajya Sabha MP, Shivanand Tiwary, would often blast RSS for its communal agenda. Though both Monazir and Shivanand have parted ways from Nitish, it was generally felt then that they used to speak on behalf of none else but Bihar chief minister.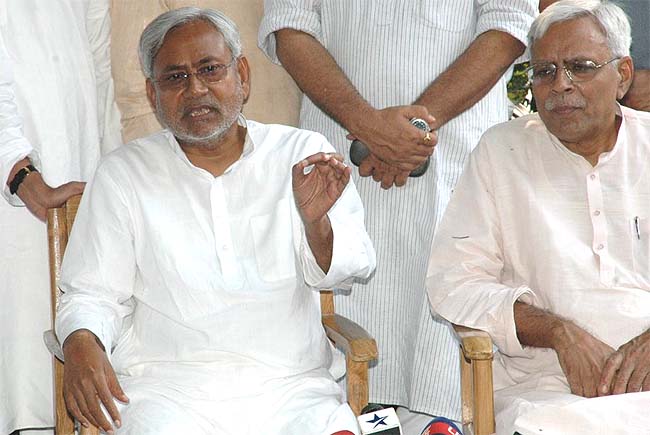 After the June 12, 2010 cancellation of dinner to the BJP's top brass present in Patna on the occasion of the national executive of the party the relationship deteriorated to a new low.
Yet in the Assembly election held in Oct-Nov the same year the two parties buried their hatchet and fought as one to win it. There was no controversy over seat-sharing arrangement and the duo swept the election winning 206 seats in the House of 243.
But only months later Nitish and BJP leaders started heading towards different directions. While the BJP was busy promoting Narendra Modi as the prime ministerial candidate Nitish flagged off Jan Chetna Rath of Lal Krishna Advani on October 11, 2011. The process of marginalization of Advani within his own party had started then.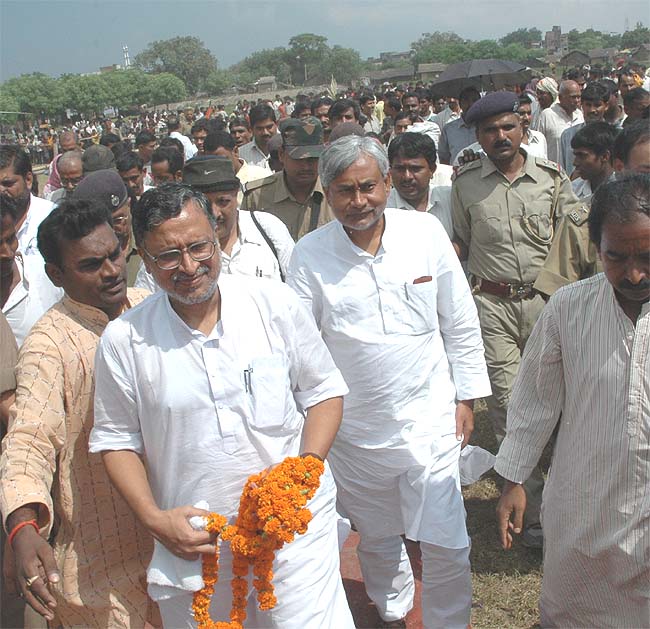 While most of his BJP ministers were upset Nitish's own deputy, Sushil Kumar Modi, was busy in damage control exercise. In the process he even went on to call Nitish as a prime ministerial material. Many within his party has not forgiven him yet.
Finally on June 16, 2013 Nitish snapped ties but that was not before months of serious acrimony with the BJP leaders––both central as well as state. Once in a public meeting, just two months before he parted ways with the BJP, he passed a sarcastic remark against Giriraj Singh, who was also sharing dais with him.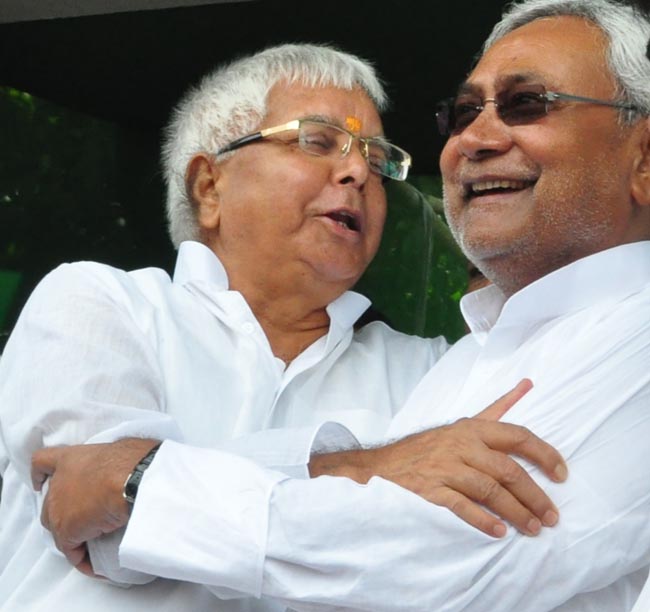 After losing the Lok Sabha election last year Nitish fell in the lap of 'Bade Bhai' Lalu Prasad. The Janata Dal (United) soon joined hands with the Rashtriya Janata Dal as well as Congress.
Months after winning six out of 10 by-elections in August last year the relationship suddenly showed a sign of strain as Nitish on April 19 skipped a rally organized by Kumhars (potters), an extremely backward caste. As Lalu too was invited and he did attend the message went that the Bihar CM did not want to share platform with Lalu. A day later, as a mnark of protest, RJD MLAs created scene against the state government in Bihar Assembly. The uneasiness continued till Lalu Prasad two months later publicly declared Nitish Kumar as the chief ministerial candidate of the mega-alliance.
However, Nitish once again landed himself in trouble on July 21 with his tweet in which he, rather surprisingly, without naming any one, compared Lalu with snake. He later clarified his statement and said that he was actually referring to the BJP.
But like during the 2010 Assembly poll, when the BJP and JD(U) buried all their differences to fight the common enemy, this time Nitish and Lalu are openly backing each other––or are preferring to remain silent on uncomfortable issues.
While in 2010 BJP consolidated its traditional votebank Nitish tried to project himself as a champion of secularism and development and in the process managed to attract a sizeable percentage of Muslim votes too.
In 2015 Nitish would allow Lalu Prasad to openly play his caste card to woo the backward votes, while the former would himself try to distance himself in a bid to allure some upper caste voters, who still admire him. This was evident on August 30 Swabhiman rally in Patna and once again on September 27 when Lalu launched his election campaign with a speech in Raghopur, from where his youngest son is contesting. He called the Assembly election as a fight between upper and backward castes.
Only time would tell whether this ploy works or not this time.

comments powered by