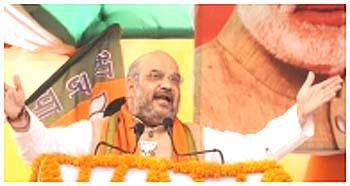 Oct 10 (IANS) BJP President Amit Shah said on Saturday Bihar Chief Minister Nitish Kumar cannot develop Bihar and govern it carrying Rashtriya Janata Dal (RJD) chief Lalu Prasad's jungle raj on one shoulder and Congress' corruption on the other.

"Development cannot take place in Bihar if Nitish and Lalu are together. It is not possible," the Bharatiya Janata Party (BJP) president said, addressing an election meeting in Nawada district's Rajauli area.

"Nitish Kumar cannot develop Bihar and govern it with jungle raj of RJD chief Lalu Prasad on one shoulder and a multi-crore scam and corruption of Congress on the other," he said.

Shah said though Nitish Kumar was talking of development but he was actually a "mukhauta" (facade) hiding Lalu Prasad and people should be wary of this hidden face of jungle raj. "There is no hope of good days in Bihar if two are together."

Targeting Nitish and Lalu Prasad for hindering development of Bihar for the sake of power, Shah said: "Both Lalu and Nitish ruled Bihar for 25 years and kept it underdeveloped and backward."

Only a BJP-led National Democratic Alliance government, if it forms the next government, is committed to develop Bihar, he said. "People in Bihar are forced to live without safe drinking water, electricity, health and education facilities, courtesy the rule of Lalu and Nitish."

Shah exuded confidence that the NDA would win the Bihar assembly polls. "Mood among the voters seeks a big change and only BJP can bring this change," the BJP president said.

The Janata Dal-United (JD-U) and RJD will contest 101 seats each while the Congress will contest 41 seats of the 243 assembly seats of Bihar, elections for which will be held in five stages between October 12 and November 5. Counting of votes will be taken up on November 8.


comments powered by