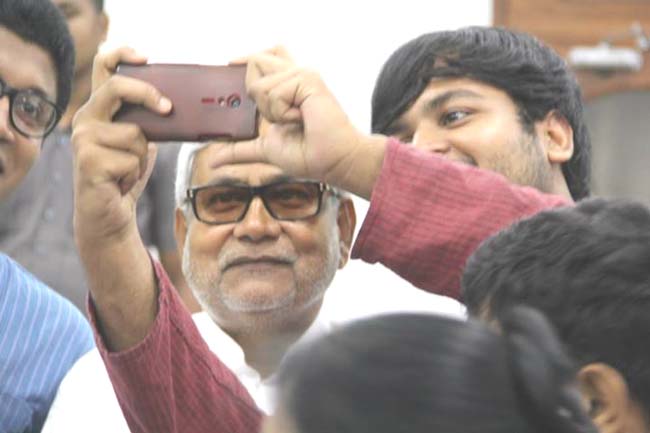 New Delhi, Oct 13 (IANS) For too long, he was shy, unlike most other politicians. But ever since the battle for Bihar began, Chief Minister Nitish Kumar has embraced social media like never before, answering, to the delight of his fans, tens of thousands of questions.

As one challenging the might of Prime Minister Narendra Modi in Bihar, Nitish Kumar, 64, is now one of the most familiar names on Facebook and Twitter, connecting a huge mass of admirers and supporters both in the country and abroad.

The Janata Dal-United (JD-U) leader is going all out to interact with his online followers.

On an average, the chief minister holds an hour-long Question and Answer session every 14 days under the "AskNitish" campaign. The campaign began on Twitter. Its success inspired him to take it to Facebook, more popular with Indians.

In the latest session held on October 11, as many as 13,374 questions were posed to Nitish Kumar, who heads the Grand Alliance of his own JD-U, the RJD and the Congress.

The questions relate to virtually every issue under the sky, ranging from his childhood and personal life to various aspects of politics including his animosity to Modi and his new friendship with RJD leader Lalu Prasad, a friend-turned-foe-turned-friend.

Some questions are actually suggestions -- how to govern Bihar better.

The chief minister takes time to study the numerous questions, club together dealing with the same subject, and answer them in as much detail as possible, his aides say.

At times, 500-1,000 questions get answered together. However, there are very few instances of individual queries being responded to.

A special team looks after the Q&A sessions and helps Nitish Kumar answer most questions.

"While he himself tries to type and answer as many questions as he can, rest are answered under his supervision," a party insider told IANS on the condition of anonymity.

But the response is being taken as a vote of confidence in the leader. JD-U MP K.C. Tyagi told IANS: "The massive response and the soaring number of questions show the popularity of Nitish Kumar. It is a very good thing. We expect a very positive result through this."

His colleagues say this is a new Nitish Kumar, Bihar's chief minister since 2005. A socialist at heart and a civil engineer graduate, he took to politics in 1974. He entered the Bihar legislature in 1985.

In the 2014 Lok Sabha election, when Modi's social media campaign took India by storm, Nitish Kumar did not pay much heed to Twitter or Facebook. And he paid the price.

But unlike Modi, Nitish Kumar is focussing more on two-way interactions with initiatives like "Parcha pe charcha" (Discussion through pamphlets) and real-time interviews with the media on Twitter. He also holds "Janta Durbar" at his 7 Circular Road residence in Patna.

Admirers say Nitish Kumar's new love for the virtual media has created a positive image of him, particularly among the young.

His Facebook pages include "Phir Ek Baar, Nitish Kumar" and "Badh Chala Bihar" to showcase the chief minister's work in the last 10 years.

Interestingly, Nitish Kumar owes his new virtual media popularity to a former Modi aide, Prashant Kishore, who helped Modi to win millions of new supporters in 2014.

Nitish Kumar aides also say that the chief minister enjoys a strong rapport with Delhi Chief Minister and AAP leader Arvind Kejriwal, who too used the virtual media in a big way to rout the BJP in February.

But it remains to be seen if Nitish can do a Kejriwal in Bihar, where balloting to elect a 243-member assembly will end on November 5 and whose outcome will be known three days later.
comments powered by