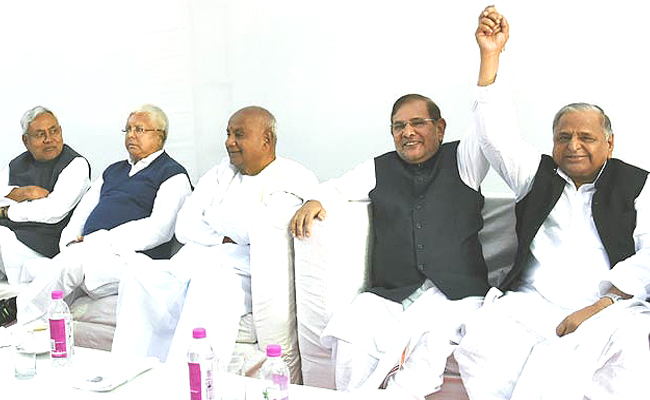 Patna,(BiharTimes): While Janata Dal (United) and RJD chiefs Sharad Yadav and Lalu Prasad are busy in fire-fighting mission and are still hopeful that they would convince Mulayam Singh Yadav, the decision of Samajwadi Party to part from the mega-alliance has posed a big challenge to both RJD and JD(U).
No doubt Samajwadi Party exists only on paper in Bihar. Still in this era of neck and neck tussle and psychological warfare its decision may have its impact on the poll prospect of the mega-alliance.
What is strange is that all this happened just four days after the August 30 Swabhiman Rally where the Samajwadi Party leader Shivpal Yadav not only shared dais with Lalu Prasad, Nitish Kumar and even Sonia Gandhi, but also went on to convey the message of Netaji that his party is prepared to make any sacrifice for the cause of secular alliance.
What happened during the four days could not be known. But several things are clear. The Janata Parivar disintegrated even before emerging as a cohesive family.
Secondly, the Samajwadi Party's decision has exposed the fissures within the extended Mulayam family––son, brother, cousin, daughter-in-law, grand nephew etc. The last named got married to Lalu Yadav's youngest daughter, Raj Lakshmi in February last. Many insiders feel that old age is taking its toll on Netaji and the party is being pulled in different directions by various members of the family.
Yet the political marriage is on the rock. The Samajwadi did so notwithstanding the fact that Lalu Prasad offered five seats to his Samadhi's party from his own party's quota of 100 seats.
The decision has come as a bolt from the blue with leaders of both the parties of Bihar immediately swinging into damage control exercise. Even the Congress Party, which has its own stake in UP, called the development unfortunate and hoped that things would soon be sorted out.
What Lalu and Nitish fear most is that in alliance with Nationalisst Congress Party or even alone the Samajwadi Party can emerge as a 'vote-katwa' party. As both RJD and JD(U) are contesting on 100 seats each there would be a large number of ticket aspirants who may not be made candidate of these two parties. Instead of fighting as an Independent or as rebel, they all may join the Samajwadi Party and get its ticket. Even if some of them manage to get a few hundred votes the scenario may be different. In this era of close finish, even the difference of a couple of hundred votes in Assembly election may prove a gamechanger.
Besides, the parting of ways by Samajwadi Party would impact the forces aligned to Mandal. Both Samajwadi Party and RJD have similar constituencies. So there is more likelihood of split in the non-BJP votes. This is the last thing which the mega-alliance would like.
comments powered by