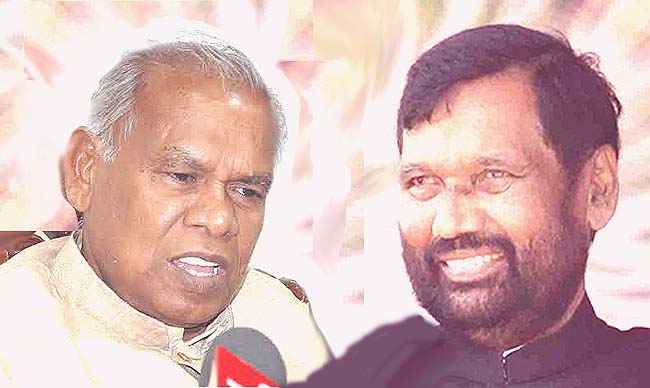 Neither Ram Vilas Paswan's Lok Janshakti Party nor Upendra Kushwaha's Rashtriya Lok Samata Party has a single MLA in Bihar Assembly yet BJP left 40 and 23 seats respectively for them. In contrast former CM Jitan Ram Manjhi's Hindustani Awam Morcha got just 20 seats after days of a hard bargaining when it already has 15 legislators––13 MLAs and two MLCs.
This is the irony of the situation within the National Democratic Alliance. The BJP succumbed to the pressure of the LJP leader as it has not forgotten how he quit the Vajpayee cabinet on April 29, 2002 days after the BJP decided to support the Mayawati government following the UP Assembly election. It is other thing that he would always boast that he resigned from the government because of the Gujarat riots, which actually started on February 27, 2002. After joining NDA again last year he no more makes any such claim.
Manjhi got half the seats than arch-competitor within the Dalit politics as the saffron party thinks that Ram Vilas is in better position to transfer the Scheduled Castes' votes than him. This is so notwithstanding the fact that the former chief minister has in his party several strong leaders, some of them who can win their seats on their own influence.
A big debate has started in Bihar whether the BJP is over-rating the capability of Ram Vilas. True numerically, socially, economically and politically his caste Dussadh or Paswan, is strongest among 22 Dalit sub-castes. They form about four per cent of total Scheduled Castes votes of 15.1 per cent in Bihar.
The other two numerically strong sub-castes are Ravidas or Chamar (cobblers) and Musahar (rat-eaters), also known as Bhuniyan. Both Mountain Man Dasrath and Jitan Ram come from this lowest of the Mahadalit sub-castes, who often use Manjhi as the surname.
But if Paswans and Musahars are almost equally strong in number why is it that so much importance is being given to the former. The truth is that unlike in UP, in Bihar Paswans enjoy considerable political clout. At places, for example in Ram Vilas' home turf of Hajipur and adjoining parliamentary constituencies they are bold enough to take on Yadavs.
Like in UP, Ravidas of Bihar are generally inclined towards Bahujan Samaj Party.
Paswans have a history of serving in the private police of landlords. In contrst Musahars are the landless labourers, many of whom still survive by eating rats and even roots of plants. At places they still have sub-human existence and are not even allowed to vote, though some changes have taken place after the advent of Lalu Prasad in 1990.
While the BJP is suspicious of Musahars and other Mahadalit castes, it knows that 68 per cent of Dussadhs or Paswans voted for the NDA in the last Lok Sabha poll. That was possible only after LJP was taken into the fold. Though the LJP got 6.4 per cent votes yet that was crucial.
Notwithstanding these facts it is true that the BJP appear to be over-rating Ram Vilas. He is no Mayawati, where the Dalit population is around 21 per cent––about two-thirds of them are Ravidas or also known as Jatavs in the western part of the state. Mayawati comes from this social group.
Ravidas has a sizeable population in cities like Agra, Meerut, Kanpur, Allahabad etc or places known for tanneries and leather industries. As there are cantonments near them the British, especially after the 1857 revolt, developed these cities. The need for military uniforms, belts and boots gave a boost to textile and leather industries in these places. That is why Ravidas are relatively well off than Paswans of Bihar, who survive on rural economy or on money sent by migrants from other places.
The irony of politics is that Ram Vilas is in the Union cabinet and LJP has six MPs though it won just 6.4 per cent of votes in 2014. In contrast the Bahujan Samaj Party won not a single seat though it managed to get 19.82 per cent of votes.
This fact suggest that the BJP's votes worked wonder for LJP as six out of seven candidates won in 2014. Still in this neck and neck fight the BJP can not afford to displease Ram Vilas, who often claims that he is the tallest of all Dalit leaders of the country––not just Bihar. It is other thing that he had always won either by siding with BJP or the Congress or as a part of Janata Parivar. Mayawati always won against heavy odds and on her own.
If Ram Vilas could not tolerate Mayawati's entry into NDA fold in 2002 how would he allow Jitan Ram Manjhi get more seats in the NDA?
comments powered by