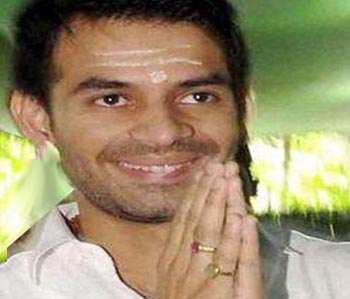 Patna,(BiharTimes): Though critics accuse him of giving a new twist to the caste politics in Bihar Rashtriya Janata Dal chief Lalu Prasad Yadav wants to break the caste barrier so far marrying his eldest son,Tej Pratap, is concerned.

Talking to the media on the occasion of the 29th birthday of the son, who is also the health minister of the state, Lalu said on Sunday that "caste does not matter to me, the girl can be from any caste."He also said that he would not accept dowry. "If at all the girl side wants to give me anything, I will take a cow and a calf. It is a tradition in a Yadav family to give and take cows and buffaloes."

The RJD chief did not stop here, but went on to say that in case the girl's father needs any help he is there for it. "If the girl's parents are unable to bear the financial expenses of the wedding, I will bear the cost too," he said.

But Lalu has just one condition: the girl and her family should be 'cultured'. "I will treat her like my own daughter," he added.

Former chief minister and Tej's mother Rabri Devi, who was also present at the cake cutting ceremony said the bride should be talented enough to look after the family and deal with issues inside and outside the family. She should have the calibre to look after every member of the family.

"I am looking for a girl who has all the qualities that I have. My son is minister and an MLA. The girl should have the qualities to deal with situations that people in his position face," she said.

Both Lalu and Rabri said that they want their son to be married by next year. Rabri appeared more categorical when she said "we have not gone out so far to look for a girl for Tej but hundreds of photographs have come to us and the proposals are coming from all over the country. So far, we have been unable to find a suitable girl for him. In fact, I have asked him if he has somebody in mind but he said no. Tej told us he would marry the one we choose."

On this occasion Tej first touched the feet of Lalu and Rabri seeking their blessings. They then applied sandalwood tilak on his forehead. Younger brother and deputy chief minister Tejashwi Prasad Yadav also touched the feet of his elder brother.

Well-wishers gathered to wish Tej Pratap. State RJD president Ram Chandra Purbey gifted him a copy of the Bhagavad Gita. Singer Chotu Chaliya sung in praise of Tej. The eldest and the youngest sisters Misa Bharti and Raj Lakshmi were present on the occasion.