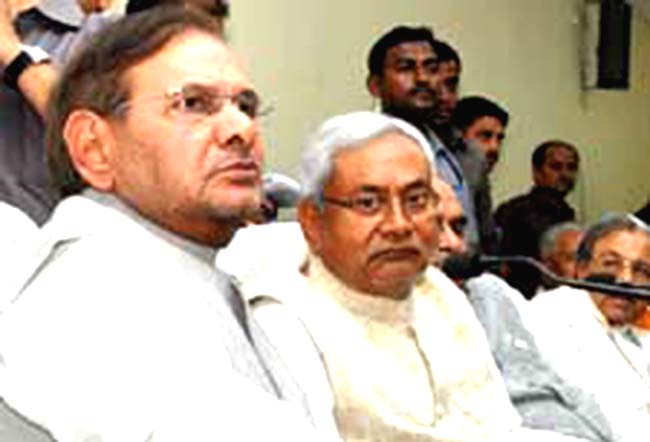 Patna,(BiharTimes): The Janata Dal (United) is facing a unique type of tussle between its present and former president Nitish Kumar and Sharad Yadav. Both these leaders have similarities and dissimilarities.
Unlike Lalu Prasad they are not mass leaders. While the RJD supremo is humorous and more open personality they both are serious politicians.
But Nitish, as the chief minister of Bihar, managed to carve out some support base cutting across the caste and community lines. Being originally from Bihar he had several inherent advantages.
Though Sharad's caste base is much larger, he has a disadvantage as he is from Madhya Pradesh.
As both Nitish and Sharad are not great crowd-pullers they had to rely either on Lalu Prasad or BJP, which has both mass leader like Narendra Modi as well as cadres. In case of RJD, which is not a cadre-based party, Lalu's casteman work as cadres and manage booths at the time of election.
Nitish learnt the bitter lesson in 2014. He realized that he would be wiped out in 2015 Assembly election as without the BJP there is no taker of his 'development' claim. So while Mamata Banerjee and Naveen Patnaik could weather the Narendra Modi storm both in Lok Sabha and Assembly elections in Bengal and Odisha, the JD(U) was virtually decimated. It could struggle to win only two seats.
The JD(U) could win Nalanda, the home turf of CM, amidst allegations of misuse of power levelled by the NDA then. The next seat was of Purnea, where too the then BJP MLA, Santosh Kushwaha, crossed over to the JD(U), got ticket and defeated the sitting BJP MP, Uday Singh, brother of retired bureaucrat, N K Singh.
Today, Sharad is facing the same predicament. He would love to be expelled from the party and save his Rajya Sabha seat, rather than resign. As he had little support base in Bihar, he will have to rely on RJD workers. This was quite evident when he arrived at Patna airport on August 10 morning and addressed a public meeting in Sonepur. Only two JD(U) leaders, Ramai Ram and Ram Badan Rai, were present to greet him.
In this age of strict anti-Defection Law, where split can be formalised only when two-thirds legislators cross over no MLA would like to take such a risk.
As 48 out of 71 JD(U) MLAs are not against Nitish, even the strongest supporters of Sharad deemed it better to presently remain loyal to Nitish and enjoy the privileges.
According to sources Bijendra Yadav, the senior most minister from the JD(U) quota is one of them.
The 20-odd disgruntled legislators, who, according to earlier media reports were against Nitish Kumar decided to keep low profile. In the post anti-Defection Law days such bold decisions are taken just a couple of months before the election.
Sharad has little option, but to fall back on his old friend Lalu Prasad. His supporters are openly telling the mediapersons that he was cheated by Nitish, who very cleverly replaced him from the post of national president in April 2015.
A former journalist Naiyer Fatmi, while talking to the Bihar Times, commented that Nitish made the plan to desert Lalu as early as November 8, 2015, the day results of Bihar Assembly election were announced. He was not at all pleased as his party got only 71 seats and RJD 80.
Nitish tried to remove all hurdles and got rid of Sharad more than 16 months ago. The FIR against Tejashwi Yadav was just an excuse to make a homecoming to the BJP, said a Bihar watcher.
There is near unanimity among political pundits that Nitish is a much weaker CM this time and may be finished after the next election as BJP may dump him. But for now there is no problem for him. It is for Sharad to fight for his survival.