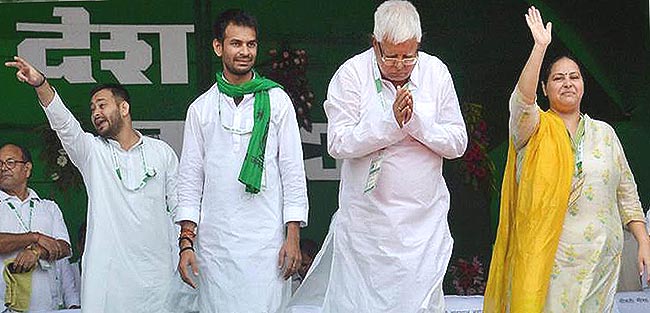 Patna,(BiharTimes): So far the turn-out is concerned the August 27 rally of Rashtriya Janata Dal can be compared to the March 18, 1996 Garib Rally, till date, said to be biggest such exercise of Lalu Prasad.
Yet there are a number of differences.
That rally was organized when Lalu Prasad was not only a very powerful chief minister of Bihar, but the national president of the then Janata Dal. It was held on the eve of the Lok Sabha election campaign and the fodder scam had just been unearthed.
The Sunday's rally was, however, quite different from all the rallies, maha-rallies and 'raillas' organized by him in the last 27 years.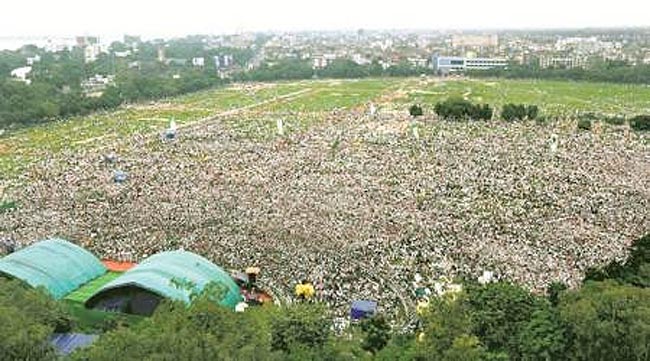 Such a massive show of strength by RJD chief has made his rivals sit up and ponder as he is not in power and he could not tour and mobilize people as he had to attend CBI court in Ranchi quite frequently. Besides, half of Bihar's 38 districts are recovering from the devastating flood.
Only his sons could undertake the Janadesh Apmaan Yatra, but that too of limited number of places because of flood. In Bhagalpur his younger son Tejashwi Prasad Yadav was not even allowed to address.
True, leaders of many opposition parties took part yet ailing Sonia Gandhi, Rahul Gandhi, Mayawati and CPI (M) leaders were conspicuous by their absence.
If the rally could attract such a big crowd when road and rail services are yet not fully restored after flood one can not wish it away as did a JD(U) spokesman, who said that Lalu wants to bring the era of 'goondagardi' to Bihar. But JD(U) leader failed to cite a single example of 'goondagardi' during the rally.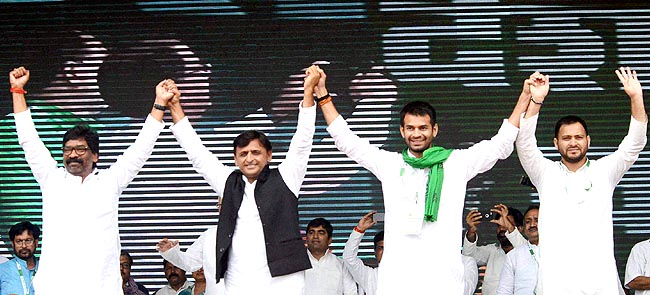 So far RJD is concerned the rally was more than successful and a matter of concern for the NDA leaders. The raids on Lalu and his family, the non-stop campaign by BJP leader Sushil Modi and Nitish Kumar's 'betrayal' seem to have created sympathy for the RJD chief and his family.
To call the spontaneous gathering of lakhs of people just as a show of strength of Yadavs, as another JD(U) leader said, is nothing but a stupidty. Even if half of them were Yadavs, how is it that such a huge number of non-Yadavs could attend it.
But RJD's success does not mean the success of efforts in the direction of opposition unity at the national level.
Mayawati and Akhilesh as well as Mamata Banerjee and CPI (M) leaders could not be brought to one platform.
Yet Lalu partially succeeded in wooing Left leaders. CPI's D Raja was there. Similarly, CPI ML's Dipankar Bhattacharya, who had otherwise never shown any interest in any RJD rally, sent his message. It said that he could not attend it because he is abroad but extended support to opposition to fight the BJP.
The problem with Lalu was that his speech was a bit too much centred on Nitish Kumar when actually it was "BJP Bhagao, Desh Bachao Rally".
No doubt, the anger was more directed against Nitish because he betrayed the opposition cause just a month before the rally, yet many political observers feel that he was given more importance than he deserves. The focus should have been more on the BJP.