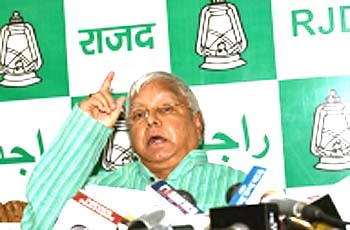 Patna,(BiharTimes): Rashtriya Janta Dal chief Lalu Prasad Yadav said on Sunday that dowry is not accepted openly.
Commenting on the claim by deputy CM Sushil Kumar Modi that his son's marriage was a dowry-less one he said nobody takes dowry publicly. It is done secretly.
He went on to say that Sushil Modi was with him in students' politics. "I give my blessings to his son," he added.
However, he said he too is against to 'band- baja' in marriage as it creates noise pollution.
When journalists asked is he sure about what he is saying Lalu shot back: "Have you seen with your own eyes that dowry has not been taken?"
He also took a dig at chief minister Nitish Kumar's campaign against dowry and child marriage: "It sounds good to talk about such issues but it's very difficult to implement."
Though there was no feast on the occasion and the guests were offered only a laddoo from Hanuman Temple, water and tea a large number of people gathered. This included almost all the BJP top-shots, minus PM, party chief Amit Shah and of course, President Ram Nath Kovind.
The Union ministers who attended the function included Arun Jaitley, Ram Vilas Paswan, Ravishankar Prasad, Radha Mohan Singh, Ananth Kumar, Dharmendra Pradhan, Harsh Vardhan, Giriraj Singh, Upendra Kushwaha and Ram Kripal Yadav.
The governors who attended the wedding ceremony were Keshari Nath Tripathi (West Bengal), Mridula Sinha (Goa), Ganga Prasad (Meghalaya) and Bihar's Satya Pal Malik.
Among the chief ministers were Nitish Kumar (Bihar), Raghubar Das (Jharkhand), Shivraj Singh Chouhan (Madhya Pradesh), Raman Singh (Chhatisgarh), Manohar Lal Khattar (Haryana), Trivendra Singh Rawat (Uttarakhand). Uttar Pradesh's deputy CM Keshav Prasad Maurya also blessed the couple.
Former Bihar CMs Jitan Ram Manjhi and Jagannath Mishra were also among the VIP invitees.
Apart from them, a large number of MPs, MLAs, MLCs, party workers, relatives, friends and people from different walks of life also attended the wedding.
They included CM's principal secretary Chanchal Kumar, health and education department principal secretary R K Mahajan and urban development and art and culture affairs department principal secretary Chaitanya Prasad.