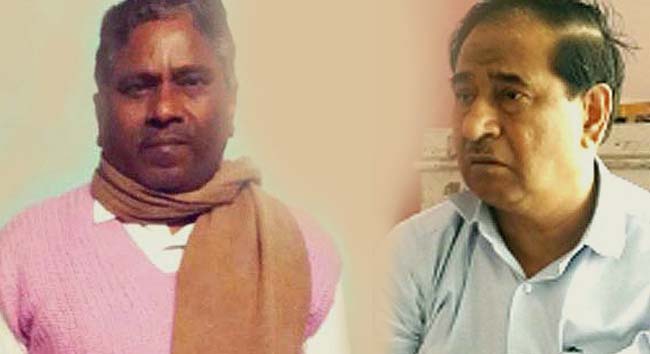 Patna,(BiharTimes): Is this the case of once bitten twice shy? While it took many weeks for the Bihar government to arrest Lalkeshwar Singh, the chairman of the Bihar School Examination Board in last year's Toppers' Scam, the secretary of Bihar Staff Selection Commission, Parmeshwar Ram, was caught within three days of the allegations of question papers leak on Febraury 5.
While it took years for the government machinery to nab the real culprits in the BSEB scam––and that too after the media highlighted the story of some small fries involved in it––in case of BSSC exam racket those alleged to be involved is soon behind bars.
In BSEB case the government patted on the back by arresting Ruby Rai––an underage girl––but not his father who made the payment simply because she fumbled for answer before a TV reporter. Lalkeshwar was arrested from Benaras after much hue and cry.
Unlike Lalkeshwar, whose wife Usha Sinha, a co-accused is a former JD(U) MLA, Parmeshwar's political connection could not yet be known.
Though Nitish Kumar has acted swiftly this time, yet it is a fact that the image of his government had taken a big hit because of the surfacing of two examination scams. But this is also a fact that this is not the first such cases of examination racket to unearth in India. Vyapam in Madhya Pradesh is the biggest such in recent years.
Mass level cheating in exam has its origin in Bihar in late 1960s. Various governments had made efforts to crackdown on it, but with temporary success.
The Bihar Public Service Commission too was rocked by one such racket in 1980s.
Even the two appointments of lectuers during the Lalu-Rabri era were marked by large scale controversies. Two successive chairmen of Bihar College Service Commission had to go to jail. Later another chairperson of the Bihar Public Service Commission had to go to jail.
But in none of the case the real culprits had been convicted.
Mind it even the opposition parties do not want to raise the issue very forcefually as they too are the beneficiaries.
Even in this latest case the NDA leaders are speaking in different tones. While senior BJP leader and former deputy chief minister Sushil Kumar Modi has expressed doubts on an impartial investigation his alliance partner and leader of Hindustani Awam Morcha Jitan Ram Manjhi is trying to defend the secretary of Bihar Staff Selection Commission. According to him Parmeshwar Ram has merely been a ploy in the hands of influential persons.
Take the case of lecturers' appointment during the Lalu-Rabri era. many politicians some of them later became ministers and wives of senior IAS and IPS officers got appointed as lecturers. Today do not ask as to how many classes some of them ever taken?
The craze for government job is so much that even sons and daughters of millionaires apply for clerk level exam. Over 18 lakh candidates were appearing in the latest BSSC exam, which was spread to four phases.
Some candidates to whom the BiharTimes talked to are sons of transporters owning buses or having some other business.
The poor candidates are the worst hit. The shrinking job market across the country––more after demonetization––have also made their life difficult.
The recent decision of the Bihar government to reserve 35 per cent seats for women in jobs have further narrowed the opportunity.
The racketeers are fully exploiting this situation. They are targeting all sorts of exams be it medical, engineering, management etc competitions or clerk level tests of railways or different state governments.
Their tentacles are spread wide and deep..
.