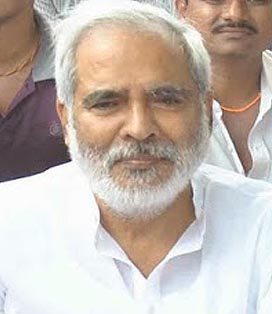 Patna,(BiharTimes): Just after RJD chief Lalu Prasad on Tuesday asked all his partymen to avoid giving statements before the media and in public on the functioning of the Grand Alliance government the party's vice president Raghuvansh Prasad Singh reiterated his stand on the Nitish Kumar government.
Talking to the media on Tuesday Lalu expressed dismay over the repeated statements given by a couple of RJD leaders. However, he avoided taking name of any leader.
Lalu even asked the RJD spokesmen to consult him before taking part in any media debate.
But Raghuvansh refused to budge. He once again held the Nitish Kumar government for the Toppers' Scam and recent exam paper leak.
He said that corruption has increased after prohibition as policemen are taking bribe to illegally provide liquor.
The former Union minister said that as a leader of an alliance partner he is entitled to point out shortcomings in the state government.
.