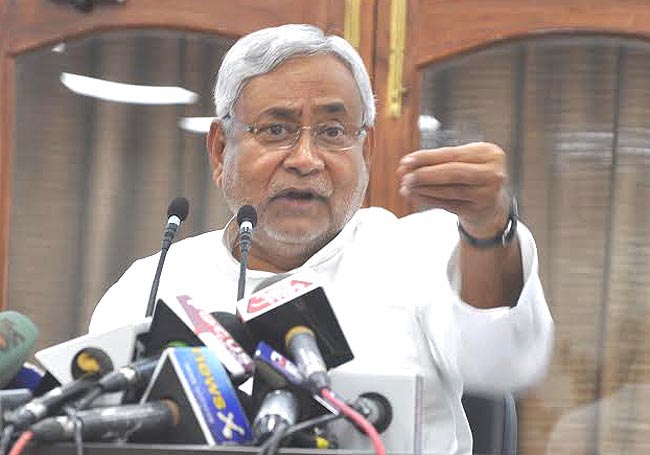 Patna,(BiharTimes): By reportedly asking deputy chief minister Tejashwi Yadav to give a "fact-wise reply in public" to the corruption charges levelled against him Bihar chief minister Nitish Kumar on Tuesday suggested that Rashtriya Janata Dal is not doing enough on this count.
This is in spite of the fact that the party supremo Lalu Prasad has always denied the charges and its national spokesman, Manoj Jha, wrote several articles in newspapers to defend his leaders.
Besides, the chief minister, in a way, made it amply clear that at least now, he is not going to seek resignation of Tejashwi.
Many media 'pundits' , who throughout the day on Tuesday, were busy spreading the news that Nitish would ask for his deputy's resignation were 'surprised' as, according to them, the chief minister has never compromised on the issue of corruption.
His critics, however, say the case is just the opposite.
Take the first case of Jitan Ram Manjhi, who was asked to put in his papers within four hours of his induction in the cabinet as minister on November 24, 2005, the day Nitish became the chief minister.
That Manjhi had a vigilance case pending against him (when he was a minister in the Rabri Devi cabinet) was a very well known fact. Yet he was inducted by Nitish.
It was only when during an interaction with the mediapersons after the oath-taking ceremony that journalists asked as to how different his government will be when it has a scam tainted person like Manjhi as a minister.
Cornered by the question Nitish sought Manjhi's resignation.
"Instead of questioning his ignorance about infamous B Ed scam and how Manjhi managed to get ticket the media praised Nitish for demanding resignation," said an independent political observer.
However, months later Manjhi was re-inducted into the cabinet after his name was cleared.
But the most shocking was the sacking of Jamshed Ashraf, the then excise minister. On January 14, 2010, that is on Tilsakrat day, Nitish called a cabinet meeting on M V Ganga. Jamshed handed him a letter in which he reportedly exposed the widespread scam in his department. Nitish took no action against anyone.
However, a month later a Hindi daily re-produced the minister's letter to the CM highlighting the scam. This infuriated the chief minister, who immediately sacked Jamshed Ashraf. The scam continued to flourish till April 2016 Nitish imposed total prohibition.
Similarly, within a year of Lalu Prasad's conviction in September 2013 Nitish joined hands with the RJD chief.
"Mind it Nitish left Lalu's party in 1994 when fodder scam was unearthed. He left only because he did not like Lalu's style of functioning. After the scam was unearthed he went all out against Lalu. But after conviction in one of the cases of scam, he started seeing all sorts of virtue in the same person, Lalu Prasad," commented an analyst, who wished not to be named.
Not only that. In the last week of March 2015 he, as the chief minister of the state, went to Delhi and met jailed former Haryana CM Om Prakash Chautala in Tihar. The latter had been convicted in a serious corruption charge. The objective was not to save his government in Bihar, but to re-unite six parties of Janata Parivar.
So it is not only on political alliance that Nitish had oscillated from Janata Dal to CPI ML than to BJP and again to Lalu––and may be to NDA again––but on the issue of corruption too, he had double standards, a journalist commented.
Recently, he backed Narendra Modi government on demonetization and choice of Presidential candidate, but within days jumped to join the UPA's Vice Presidential candidate.
"If Nitish is so conscious of cleaning politics why did he give tickets to the likes of Gopal Mandal, Sarfraz Alam, Bima Bharati and many others. Is not it a fact that as notorious a person as Ranvir Yadav fired in the air to save him in Khagaria when he was pelted with staones by para-teachers several years back," a critic asked.
Today RJD leaders are citing all these examples to counter the image being creatd by a section of media and BJP leaders about his image.
Save some like Raghuvansh Prasad Singh and Bhai Birendra others are not coming out openly against him. In fact Lalu has asked them not to speak as it will have impact on Grand Alliance.