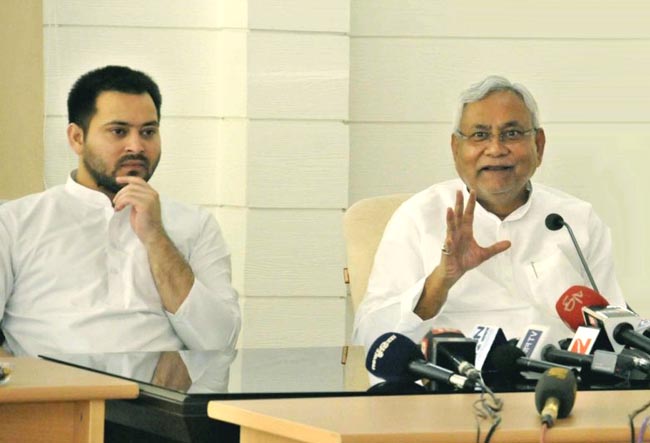 After coming out from Raj Bhawan on evemtful July 26 evening Nitish Kumar said that though he never asked Tejashwi Prasad Yadav to resign it would have done a lot of good to him had he done so on his own. But the moot point is: why did not he seek resignation when his track record on the issue of fighting corruption is so good?
Anyway whatever his spokespersons claim and the regional media scream his track record is questionable. How is it that they forgot to highlight that the then excise minister Jamshed Ashraf was in February 2010 dismissed from the cabinet when he tried to expose the multi-crore liquor scam. What about the series of direct allegations of corruption hurled on Nitish by Jitan Ram Manjhi when he became the chief minister of Bihar? What about Uterus, Paddy Scam, Estimate Scam, Toppers Scam, Liquor Scam, scm involving double enrolment in schools. Without doubt they together amounts to involvement of many times more money than fodder scam. Not to miss the role of former PMC Commissioner, Senthil Kumar, who approved the illegal construction of hundreds of apartments in one go. All these had happened in the eight and a half years of previous NDA government and nobody went to jail––thanks to 'zero tolerance' against corruption. Mind it all the key portfolios were then in the hands of BJP ministers.
Let us forget the past. Had Nitish on July 26 sought Tejashwi's resignation or dropped him from the cabinet it would have done him more good.
RJD would have in that scenario withdrawn support to him. He would have emerged as a martyr for the cause of clean politics.
Nobody ever expected him to dissolve the House. But had he waited for a few days and then BJP announced support to him it would have done a lot of good to him. In that case he would have argued that he is joining hands only to avoid fresh election and because the RJD had withdrawn support.
In that case the onus would have been on RJD and not the Janata Dal (United). In contrast he said he did not ask Tejashwi to quit. Then within a few minutes he crossed over to the NDA camp and the following morning took oath as the chief minister once again. In the process he lost all the moral high ground he tried to build.
Now even his most ardent admirers in the media––may be even columnist and historian Ramachandra Guha––are stating that the script of this political drama was written much earlier and that Tejashwi issue was just an excuse.
Nitish said it was not very easy to run the government in the last 20 months, but he failed to cite a single instance of what type of hurdle Lalu Prasad had created.
Instead one evening his conscience said quit, so he resigned and the other morning it said become CM again and he took oath. After all Lalu was a convicted politician and it was Nitish who had rushed towards the RJD supremo and not the otherway round. If things were not good in the 20 months how well it was in the previous 29 months between June 16, 2013 and November 20, 2015. What about the political mess created by Nitish.
Was the installation of Manjhi as CM and than ruling Bihar from behind an example of good governance?
People's memory is not so short as to forget how Manjhi had accused Nitish of ordering his staff to take away all the litchis and mangoes from 1, Anne Marg bungalow allotted to the former when he was CM for
nine months. Perhaps political acrimony had never reached so low as in that period.
In the last four years Nitish had more than cancelled out all the achievements which he made in the first four years in office. One can defend his move to embrace convicted Lalu Prasad. One can even justify his proposal to merge JD(U) and RJD as he wanted to make a political comeback.
But how can one applaud his move to go and meet the former Haryana CM, Om Prakash Chautala, a convicted politican in serious corruption cse, in Tihar Jail. CM Nitish wanted to see all the six parties of Janata Parivar merged and be a prime ministerial candidate. Lalu never asked him to knock at Tihar Jail as he did on March 28, 2015.