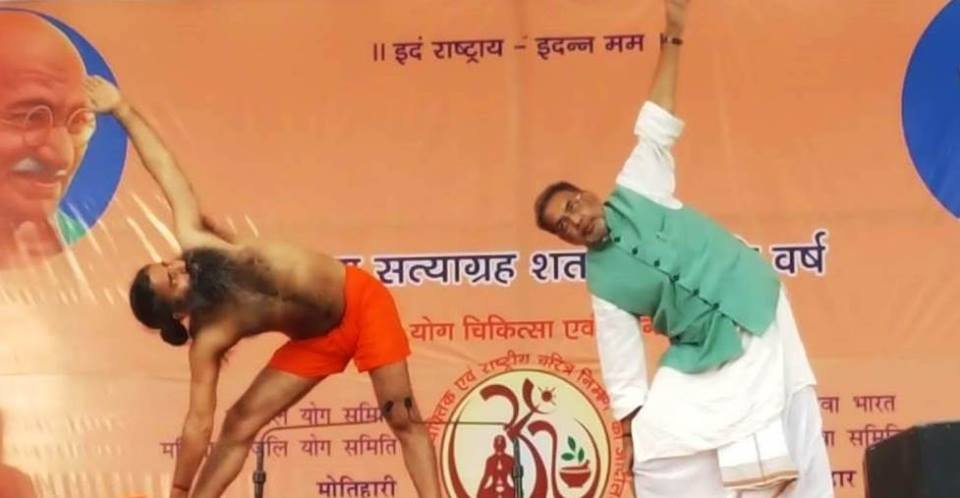 Patna,(BiharTimes): When farmers of Maharashtra and Madhya Pradesh were on the warpath to press their charter of demands, which include waiving of farm loans, one person who was conspicuous by his absence is none else but Union agriculture minister Radha Mohan Singh.
He had not spoken a word since the killing of five farmers in police firing in Madhya Pradesh or widespread agitation in Maharashtra. There is unrest in farm sector even in Tamil Nadu and Telangana.
The only time his name appeared was on Wednesday when prime minister Narendra Modi called a meeting in which he and home minister Rajnath Singh were present.
On Wednesday he even cancelled his Press Conference in New Delhi––perhaps he was found incapable of speaking on the issue.
But a day later Radha Mohan was seen performing 'Yoga' with Baba Ramdev in his parliamentary constituency in Bihar. Several 'yoga' experts observed how difficult it was for the minister to perform 'yoga' as he appears to be new to it.
Anyway his silence on the issue raises a big question. In his place home minister Rajnath Singh on Thursday said that the Modi government is sensitive towards the problems of farmers and claimed that the input cost and price of fertilizers have gone down in the last three years.
The prime minister has not spoken and is taking the stock of the situation.
On most of the issues it is finance minister-cum-defence minister, Arun Jaitely, who speaks. On one or two occasions one hears Venkaiah Naidu too.
The only Union minister from Bihar who speaks occasionally is Ravi Shankar Prasad, who holds law portfolio.