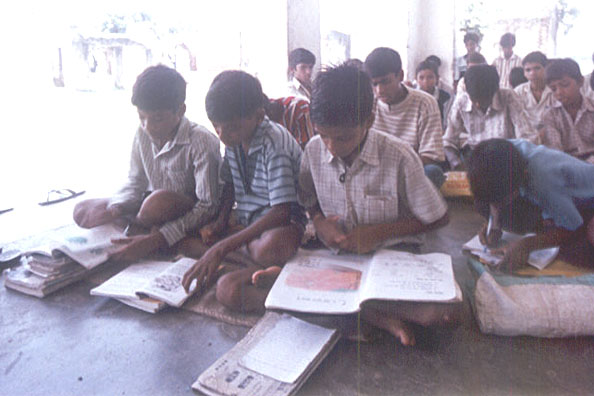 Patna, June 9 (IANS) Bihar's poor Class 12 results this year have been shocking. Only 30 per cent of those who took the Science exam passed -- thanks largely to hundreds of schools functioning without science teachers and laboratories remaining locked up for years.


There are only seven Physics teachers in 3,500 government schools. And with most of these seven teachers posted in Patna, the rest of the state has almost no Physics teachers, said an official.

"Officially, there are no Physics teachers in government-run Plus Two schools in the remaining 37 districts of Bihar. It is a pathetic situation," the official said.

In about 1,045 higher secondary government schools, science laboratories are either locked or non-functional in the absence of basic infrastructure and resources, according to officials.

"All schools have been identified where no laboratory classes are conducted for students and laboratories are locked," an education department official told IANS.

These schools never hold practical classes for science subjects as they have no functional laboratory. "Despite not holding practical classes, the students were given high marks in practicals that helped them secure good marks in the main Science subject," an official said.

The condition of private colleges is no better.

Some Plus Two private colleges in the state are being run out of garages comprising three to four rooms. And all of these schools are affiliated to the Bihar School Examination Board.

According to an education department official, unaided private schools mushrooming across the state are "experts in ensuring high scores for their students".

Most private schools are managed by powerful leaders from different political parties, the official said, adding that many times the same schools produce state toppers in all subjects.

This year, more than eight lakh students of over 12 lakh who appeared for the Class 12 exams conducted by the Bihar School Examination Board (BSEB), failed.

Only 30.11 per cent students who took the Intermediate exam under the Science stream passed, and of these only 8.93 per cent students secured first division (above 60 per cent).

The failed students have been protesting in several of the state's 38 districts for last five days.

The pass percentage in Bihar has been falling every year since the past few years. This year, the pass percentage of Class 12 students of Arts, Science and Commerce in BSEB was 35.24 per cent as only 4,47,115 students passed of total 12,40,168 students who appeared.

In 2016, total pass percentage was 62.19 per cent, while in 2015 87.45 per cent students cleared the Class 12 exams. In 2013, 88.04 per cent students passed and 90.74 per cent students passed the year before that.

That Bihar's education system has loopholes has been evident time and again.

In 2015, former Bihar Deputy Chief Minister Sushil Kumar Modi's wife, Jessy George, filed a defamation case against then state Health Minister Ramdhani Singh who alleged that she used fake degree certificates to get a professor's job in a government college.

George's name had figured in a scam unearthed by the vigilance panel, which found irregularities in the appointment of many lecturers in colleges recognised by the University Grants Commission. Her experience certificate from the Raja Rammohun Roy College of Education is also alleged to be fake.

Last year, Rubi Rai and Saurabh Shrestha who topped the Bihar Board Class 12 exams in Science and Arts respectively failed to answer basic questions about their subjects on camera - exposing the rampant cheating that had been going on for years.

In 2015, photographs and videos of mass cheating in Bihar board exams went viral. This year, the authorities cracked down on cheating during exams -- one of the reasons for the poor results.