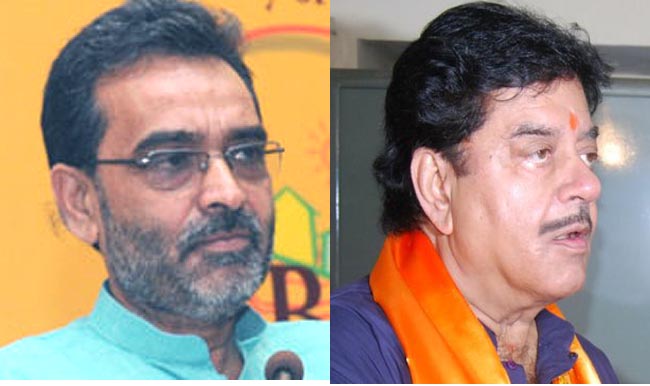 Patna,(BiharTimes): On the eve of the final round of election in Uttar Pradesh the National Democratic Alliance is facing rebellion within. Incidentally, the sign of revolt has been shown by leaders hailing from Bihar and not the state where election is taking place.
The first to fire the shot was Patna Saheb MP of the Bharatiya Janata Party, Shatrughan Sinha, who asked "What type of desperation it is? If there is so many hard-working cadres and hardly working leaders…Yah sab se bade star hain aur sab se bade star ko gaon gaon gali gali utarana kya sandesh deta hai." (He is the star campaigner. What type of message it gives when the star campaigner is made to toil in each and every villages and lanes.), the cine-star said.
As if that was not enough came the statement from Narendra Modi's own minister, Upendra Kushwaha, who heads Rashtriya Lok Samata Party, a Bihar-based NDA constituent.
Speaking at party's foundation day function in New Delhi on Sunday he said: "Prime Minister addressing rallies is all right. However, a Prime Minister should not hold roadshows, that too for an Assembly election."
He went on to add: "It lowers the dignity of the post of Prime Minister. The BJP should have not done this."
On Saturday too, he had issued a similar statement on roadshow.
The Union minister of state for HRD also claimed that the people in the PM's inner circle did not meet the requirement of social justice.
Media reports from Delhi and Patna suggest that not only Shatrughan and Kushwaha are upset even Union food minister Ram Vilas Paswan who leads the Lok Janshakti Party is feeling let down. Former chief minister Jitan Ram Manjhi of the Hindustani Awam Morcha has already expressed his annoyance at not being invited to campaign in UP, where there is such a large Dalit votes.
Political observers are of the view that if the BJP wins the UP election all such voices of dissent would be silenced. But if it loses it may face a big challenge in future as Lok Sabha election is due in 2019.
"No doubt the Narendra Modi wave brought NDA to power in 2014. But when chips would be down after the defeat in Bihar and UP the help of leaders like Kushwaha, Paswan and Manjhi may be crucial for the saffron party. But all this depends on March 11 results," said a political commentator.
.