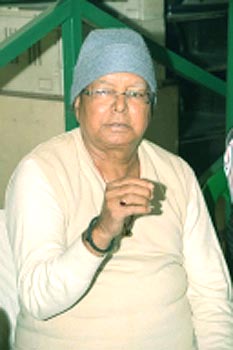 Patna,(BiharTimes): Like Congress vice president Rahul Gandhi, Rashtriya Janata Dal chief Lalu Prasad on Friday claimed that all exit polls would be proved wrong as it did in Bihar in November 2015.
Commenting on the post-poll surveys just over 12 hours before the counting is to start, RJD supremo, who had campaigned for SP and Congress, said that the prediction would fall flat the way it did in Bihar elections.
He is confident that the SP-Congress alliance would win the election on their own.
The former railway minister said in Bihar almost all surveys predicted BJP-led NDA as the winner, but when EVMs were opened and votes counted, all the predictions were proved wrong.
When asked how the results would impact Bihar, Lalu replied it would impact Delhi as it would start decline of BJP across the country.
One of Lalu's son-in-laws is contesting election in UP.
His son and deputy chief minister Tejashwi Prasad Yadav, while talking to the media, reminded, that the exit poll in Bihar had written off RJD in particular, but the opposite had happened. The same would happen in UP this time.