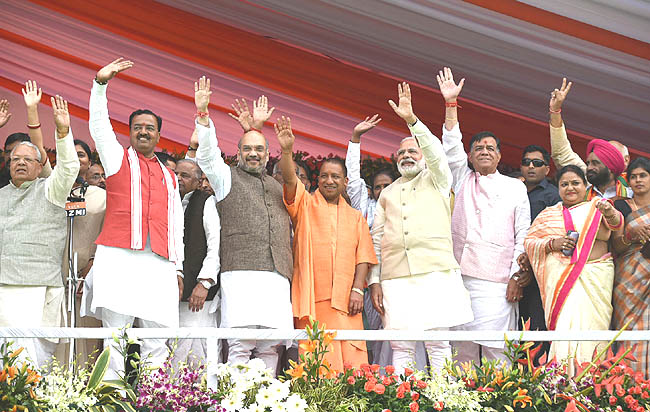 Patna,(BiharTimes): The election (read appointment) of Yogi Adityanath as the new chief minister of Uttar Pradesh on March 18 is likely to have its impact on politics outside his own state, especially Bihar, as the announcement came just minutes before minister of state for railways, Manoj Sinha, was, according to all reports, about to take up this job.
In fact almost all the TV channels, newspapers and news agencies had by Saturday confirmed that Sinha is likely to be the choice of the BJP leadership. But then came the news of Yogi's supporters taking to the streets of Lucknow. Then what happened is known to all. A similar surprise was witnessed after Anandiben Patel was succeeded as the chief minister of Gujarat Vijay Rupani. At the final moment his name came up after Nitin Patel was almost named as the CM.
It is not that Yogi was not in the race of post of chief minister of the state. He was. But what came as a surprise is the way the BJP's strong leadership succumbed to the pressure of Yogi. Or was it just a ploy?
Any way Manoj Sinha's name sparked off a spate of private celebrations at many homes in Bihar for several reasons. That is why the manner in which his name was dropped at the final moment dismayed many in rank and file of the BJP in the state. Besides, his castemen in Bihar were a bit upset.
True both Manoj Sinha and Yogi belong to districts bordering Bihar––Ghazipur and Gorakhpur––yet Manoj's link to this state was more strong. Yogi in fact is from Uttarakhand and like the new BJP CM of that state is a Rajput. There is already resentment in many BJP circles that there is too much Rajput domination in the party. Thanks to the then party president and now home minister Rajnath Singh, Rajputs got an overwhelming number of tickets in 2014 Lok Sabha election. And now two CMs belonged to that caste. This time too about sixty Rajputs got elected to the new assembly. This is so notwithstanding the fact that almost all the upper castes overwhelmingly voted in favour of the BJP, both in 2014 and 2017.
Even among the upper castes Brahmins have been quite influential and numerically said to be stronger than Rajputs in UP. Yet they were set aside.
True Manoj Sinha comes from numerically very small caste of UP. Yet had the BJP appointed him as the chief minister it would have adopted the strategy of promoting an 'outsider'.
After the advent of Narendra Modi the BJP has appointed a non-Jat, non-Maratha and non-tribal CM in Haryana, Maharashtra and Jharkhand respectively.
In that way the BJP would have demolished the tradition of a chief minister from outside Brahmin, Rajput, Jat, Yadav and Ravidas in Uttar Pradesh.
Had Manoj Sinha been made as the chief minister he would have greatly galvanised the Bhumihars towards the the BJP.
Unlike UP, in Bihar Bhumihars form a very strong upper caste groups. Except Rajputs, the two other castes, Brahmins and Kayasthas are numerically small in number.
As Manoj Sinha is from Ghazipur, which is very close to Bihar, and had his in-laws place in Bhagalpur his election as the CM of UP would have given a new hope to his castemen.
As in UP, so in Bihar, there is a feeling that Rajputs are walking away with everything in BJP.
Manoj's proximity to Bihar would have electrified the Bihar BJP, which after the humiliating defeat in 2015 Assembly election is yet to fully recover.
Many Bhumihar leaders feel that it is still better to remain associated with the Janata Dal (United), even if it has joined hands with the RJD.
In Bihar politics no Bhumihar could become chief minister after the first CM Shri Krishna Sinha, who died in 1961. Manoj's elevation would have broken that long spell––at least in neighbouring UP.
Some Bhumihars, who wished not to be quoted, are feeling let down by the manner in which Manoj Sinha's name was first floated and then denied the opportunity. After all, Manoj was more talented and more acceptable personality to all than Yogi, they feel.
.