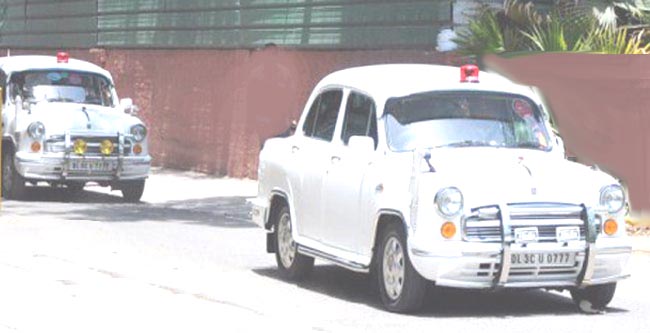 Patna,(BiharTimes): The new governments in Punjab and Uttar Pradesh have resolved to end the VIP culture from their respective states. In Bihar, it got support from the Bihar Pradesh Congress Committee chief and education minister Ashok Chaudhary and some BJP MLAs.
About 10-12 per cent of the existing strength of police force in Bihar are deployed in VIP security. The percentage of police personnel devoted to VIP security is the highest in the country.
As per the Bureau of Police Research and Development's latest estimate, 3,030 VIPs (highest no. among all the states) are getting a security cover of more than 10,000 cops.. Interestingly every 5th VIP in the country is from Bihar..
Surprisingly the list of VIPs that includes ministers, judges, MLAs, MLCs and other VIPs may not cross the figure of 1500 but who are the other VIPs? "They also include political workers, contractors,, part-time politicians-cum-power brokers, coaching owners , businessmen mostly close to the power may be," said a senior police officer.
Bihar is among the states with one of the highest police-citizens ratio. There is one policeman for every 1,456 citizens. If we deduct the force deployed on VIP security it may go up to 1800. Only West Bengal with one policeman for 1,658 citizens is ahead of it. The country's police personnel to population ratio is 1:761.
The state with lowest per-capita income is spending most on maintaining VIP status of a few selected persons. According to RTI activist Shiv Prakash Rai the state government spends as high as Rs 400 -500 crores annually on the security and other privileges of VIPs. "This is the tax-payers money" he told BiharTimes.
"The worst is- many people with criminal records too get VIP security and use their guards in doing crimes " Rai added
The issue of ending VIP culture at least came in political discourse during Punjab election as AAP party put it in their election manifesto. However, newly elected chief minister Amarinder Singh was quick to act against VIP culture and was also followed by Yogi Adityanath, new chief minister of UP.
Earlier in Bihar, the NDA government led by chief minister Nitish Kumar had not only increased the security to the VIPs but even announced special facilities to the former chief ministers. They are entitled to bungalows and security throughout the life.
The big question is whether the ruling class in Bihar is ready for giving up these privileges. Even in Punjab and UP there are grumbling within as the new legislators do not want to do away with their beacon-fitted cars and other facilities.