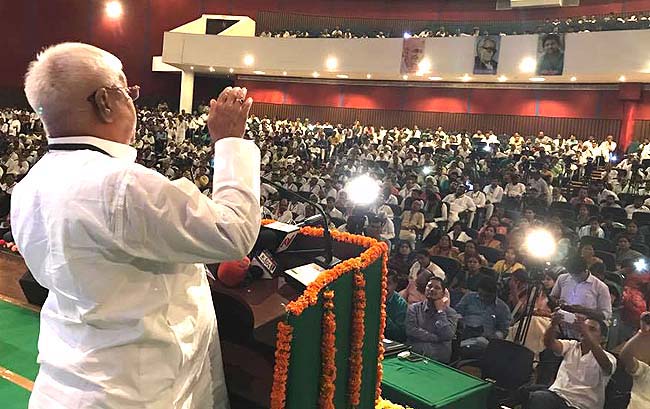 Patna,(BiharTimes): Rashtriya Janata Dal leader Lalu Prasad on Thursday asked his party cadres to tie their old cattle in front of the houses of RSS and BJP leaders to expose their fake love for cows to gain votes.

Speaking on the concluding day of the three-day training camp for his party cadres in Rajgir he said the RSS and BJP leaders do not love 'gaumata' (mother cow). "I ask you to tie your old cows that do not give milk at the doors of RSS and BJP leaders. Watch what they do with the cattle…It is possible that they may beat you but do not get scared. Tie the cows at their doors," he said.

Lalu said these BJP leaders just talk about cow protection but they wear shoes and slippers made from cow-hide. Senior RJD leaders, Lalu's minister sons Tej Pratap Yadav and Tejashwi Prasad Yadav, and eldest daughter and Rajya Sabha member Misa Bharti were present on this occasion.

In July last year Lalu, who owns more than 100 cattle, wrote a letter to prime minister Narendra Modi asking him to order all Union ministers to keep cows at their official residences. The ministers, he had written, should personally take care of the animals and if a minister's cow dies he or she should personally perform its last rites.

He wrote this letter after several Dalits engaged in skinning dead cows were flogged in Una, Gujarat, the home state of PM and BJP chief.