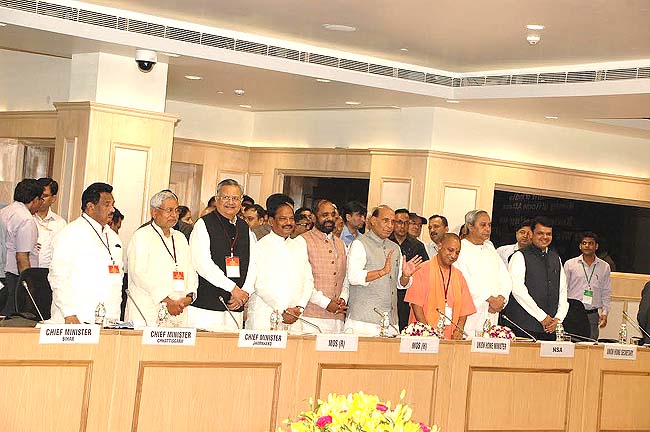 Patna,(BiharTimes): Bihar chief minister Nitish Kumar held the policies of Narednra Modi government directly responsible for rise in Maoists' related violence in the country. Speaking at the meeting that Union home minister Rajnath Singh chaired and top brass of the security establishment of the 10 Maoist-affected states attended along with senior ministry officials he said that the UPA government had introduced some schemes for capacity enhancement of security forces and to address local disparity in the Maoist-affected states, such as the special infrastructure scheme (SIS), integrated action plan (IAP), and security related expenditure.

According to him these schemes produced good results. Since last year the SIS and IAP schemes have been discontinued and ironically this happened when we were hoping that the government would further
strengthen these schemes and enhance resources. He said on Monday that stopping funding in these schemes has adversely affected developmental work. The chief minister came down heavily on the Centre for reducing funding in the plan component for modernisation of the police force to equip the state police with technology, training and modern gear to face threats like Maoist guerrillas.

He said from the year 2000-2001 to 2014-2015, the Centre provided funding under the scheme to the tune of Rs 40 crore annually and subsequently it was reduced to Rs 25 crore. He said for a state like Bihar––which has six out of the 35 districts identified as most affected by Union home ministry–– the ratio of Centre to state funding should be 90:10 and not 60:40. He also claimed that Bihar had requested the Union home ministry for the deployment of a helicopter but the ministry turned down the proposal and instead asked the state to use the chopper deployed in Jharkhand as and when need arises.

Nitish said under the federal structure of country the Centre cannot relegate itself to a mere reviewing role by throwing the ball in the court of the states for taking effective action to neutralise the Maoist threat which has emerged as a challenge to internal security. He said if effective steps in the real sense are to be taken, then mere discussion with the state governments will not suffice and the Centre will also need to take concrete steps. Financial grants need to be continued for the schemes initiated earlier. In case the Centre decides to discontinue or reduce grants, it will have a detrimental effect in the fight against Naxalites.

Nitish argued that charging the states with 100 per cent financial burden for deployment of central paramilitary forces was also devoidof logic.The six districts most affected by Naxal violence are Gaya, Aurangabad, Nawada, Jamui, Banka and Muzaffarpur.