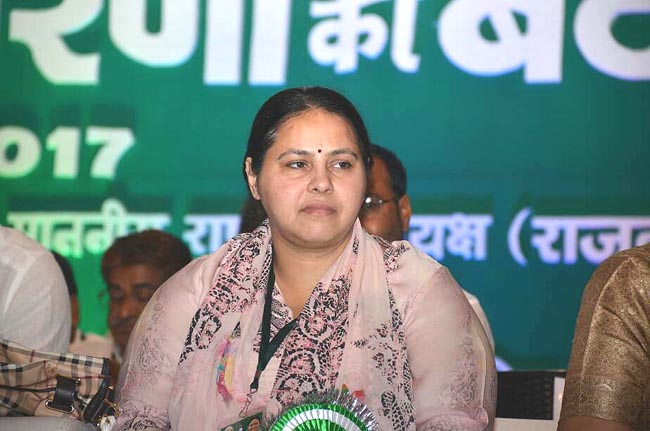 New Delhi, May 23 (IANS) The Enforcement Directorate on Tuesday said it has arrested the chartered accountant of RJD chief Lalu Prasad's daughter Misa Bharti in connection with an alleged money laundering case, an official said.

An ED official told IANS that chartered accountant Rajesh Agrawal was arrested on Monday from Delhi for his involvement in money laundering and the black money racket.

Agrawal was accused of converting black money into legal source of income through dubious transactions with the help of Surendra Kumar Jain and his brother Virendra Jain -- known as Jain brothers. The ED arrested the Jain brothers on March 20.

At least 90 shell firms are under the ED scanner.

Agrawal has also been accused of helping Bharti's husband's company, Mishail Packers and Printers Pvt Ltd. "with some transactions".

The arrest follows the May 16 Income Tax Department raids at 22 places in and around Delhi in connection with alleged "benami" property deals involving Lalu Prasad and his children -- Bihar Deputy Chief Minister Tejashwi Yadav, Health Minister Tej Pratap Yadav and Misa Bharti, who is also a Rajya Sabha member.

The ED official said that Agrawal was dealing as a mediator between persons possessing illegal money and Jain brothers, owners of Jagat Projects Ltd, who are accused of 'benami' (proxy) transactions involving over Rs 200 crore through shell companies.

The agency registered a case on February 11 following a criminal complaint filed by the Serious Fraud investigating Office (SFIO) in Delhi's Tis Hazari courts against the Jain brothers, Jagat Project Pvt. Ltd., Agrawal and others for criminal conspiracy, cheating and forgery and under the provisions of the Companies Act.

The ED investigation has revealed that Jain brothers, through Jagat Project Pvt Ltd, had converted their unaccounted Rs 64.70 crore into apparently legitimate transactions by way of share subscription by various shell companies, an official said.

Of this, Rs 62.20 crore of unaccounted money was laundered through 26 shell companies controlled by the brothers, another ED official said.

In lieu of accommodation entry for Rs 62.20 crore, Jain brothers received a consideration of Rs 1.12 crore through Agrawal, he said.

"The properties worth consideration amount of approximately Rs 1.12 crore of Jain brothers were attached last week under the provisions of Prevention of Money Laundering Act."

The modus operandi of Jain brothers was to launder the unaccounted money through the process of placement of funds, layering of transactions and the final integration of laundered money into the banking channel camouflaged as legitimate share premium transactions, the official said.

"Funds were brought in by the mediators on behalf of the beneficiaries."

Jain brothers were providing accommodation entries by accepting funds through these mediators and converting the same into share premium transactions in the beneficiary company for a certain percentage of the unaccounted money converted into share premium, he said.

"Jain brothers had been maintaining ledger accounts in the name of Agrawal. The running account of Agrawal in the cash books of Jain brothers clearly establishes the close link between the inflow of funds into the cash books and outflow of the same in the form of so-called investments by way of share subscription."

The official said, "Thus, the so-called investment in shares of companies with no real business is nothing but accommodation entry given in lieu of cash received from the beneficiaries through Agrawal, who has transacted in this manner for over Rs 39.21 crore in financial year 2009-10 alone."