Patna,(BiharTimes): Recently convicted RJD leader Prabhunath Singh had been one of the most bitterest critics of Lalu Prasad for over one and a half decade. In fact Ashok Singh, the MLA whom he allegedly got killed, belonged to Lalu Prasad's the then party, Janata Dal.
In fact he was the Janata Dal (United) parliamentary party leader. However, in the later days in his party he became a vocal critic of the chief minister Nitish Kumar and some BJP leaders.
His decline started when he, as JD(U) candidate, lost the 2009 Lok Sabha election to RJD's (now late) Uma Shankar Singh.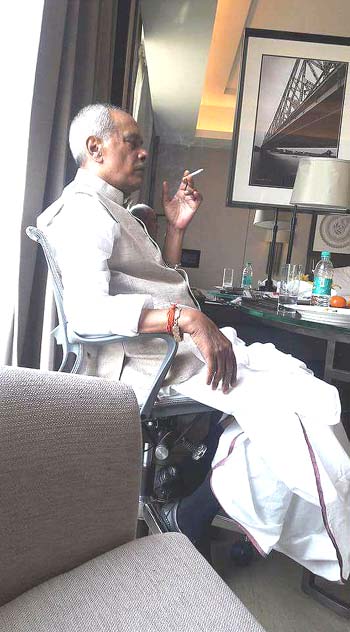 Once a senior strongman of the NDA in the Siwan-Chapra belt Prabhunath became so fed up with his own party that he quit JD(U) and in August 2010 joined the arch rival Lalu Prasad's RJD.
His crossing over to the RJD was not received well by many Rajput leaders close to Lalu. Uma Shankar dissociated himself with the party and later died.
Prabhunath won Maharajganj by-election held in June 2013, that is after the death of Uma Shankar Singh.
But that was only a short-lived recovery. Eleven months later in May 2014 he was swept away by the Narendra Modi wave.
Though he was considered as a Rajput strongman he failed to ensure the votes of his castemen to the RJD. On his part he worked hard in both 2014 LS and 2015 Assembly elections.
As he failed to emerge as the Rajput leader of RJD his bargaining position got weakened. Unlike during the JD(U) years, he would seldom be seen in the media.
Now the court verdict against him came as a big blow to him. Ironically he has been convicted 22 years later on the charge of getting eliminated an MLA of Lalu's party.
Yet Lalu never abandoned Prabhunath, though he has much respected Rajput leaders like Jagdanand Singh and Raghuvansh Prasad Singh in his party.
Prabhunath is still important for RJD chief. He is from near Lalu's home turf of Gopalganj. Besides, Lalu had represented Chapra several times in Lok Sabha. The RJD chief still needs leader like Prabhunath as he is grooming his younger son, Tejashwi Prasad Yadav.