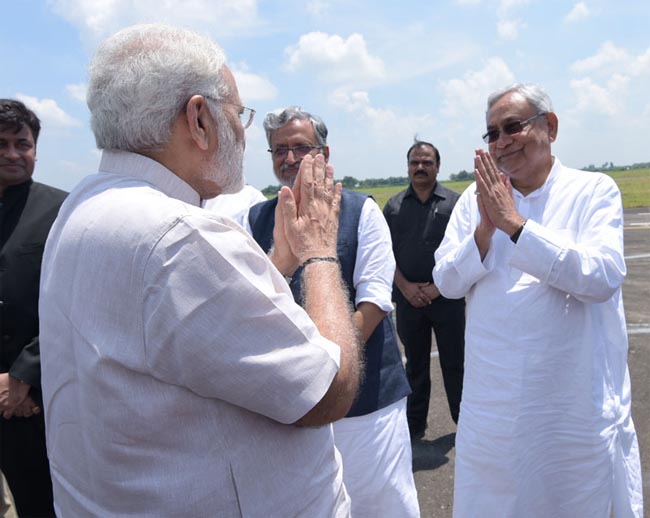 Patna,(BiharTimes): After meagre allotment of Rs 500 crore for the people of flood-hit Bihar this is the second slap in the face of Bihar chief minister Nitish Kumar from Prime Minister Narendra Modi.
As politicians do not 'weep' in public, in private the humiliation caused to Janata Dal (United) may have a debilitating impact on its rank and file.
For last more than a week rumours had been doing the rounds that JD(U) would get at least two ministerial berths. True, two ministers had been inducted, but both from BJP––Ashwini Choubey and Raj Kumar Singh, the man who as the DM of Samastipur got Lal Krishna Advani arrested on October 23, 1990.
Media, both in Patna as well as Delhi, was reporting how R C P Singh, former bureaucrat and JD(U)'s new leader in Rajya Sabha and Santosh Kushwaha, the party's MP from Purnea, are likely to be inducted in the Modi cabinet.
A prominent newspaper columnist even speculated that Singh may get Railway ministry and Kushwaha may be made minister of state. The JD(U) was reportedly keen to get the Railway berth as its minister would try to 'discover' whether any irregularity was committed during the stay of Lalu Prasad in Rail Bhawan between 2004 and 2009.
But Modi poured cold water on all the plans of Janata Dal (United).
However, independent political observers are of the view that the prime minister has actually shown Nitish Kumar his true place. With just two MPs and a party with only 71 MLAs JD(U) has got more than it deserves, that is a post of CM and so many ministers in Bihar. There is no vacancy for it in the Centre.
"Nitish has been made to understand that the era of Atal Bihari Vajpayee and Lal Krishna Advani is over. Now there is little use of him. The saffron party has already achieved its objective on July 27––that is to weaken Grand Alliance," said a political commentator.
"There is no doubt that Nitish returned to the NDA fold on his own terms and conditions. His bargaining position is very weak. He can not go to any other place. The BJP can twist his arm now in the manner Nitish did in the eight and a half years of previous alliance––between November 24, 2005 and June 16, 2013," he further said.
The denial of berths to JD(U) has given enough opportunity to opposition parties, especially RJD, to tease Nitish. What JD(U) fears most is the gradual erosion of its support base. They would either shift towards the BJP or to RJD.
While commenting on this latest reshuffle an English newspaper columnist told a TV channel on Sunday that "Nitish Kumar may soon be reduced to Anupriya Patel." She is a Kurmi leader of UP and her party Apna Dal (like JD-U) has only two MPs, while the rest 71 from the state are of the BJP. Not only that her mother, Krishna Patel, also an MP, has distanced herself from her daughter who was made minister of state in the last reshuffle.
The comment may be too harsh, but the gradual marginalization of the JD(U) is a cause of concern for the party.
As no one from JD(U) could protest the meagre allotment of Rs 500 crore for the flood relief no one would say anything on the denial of ministerial berth too.