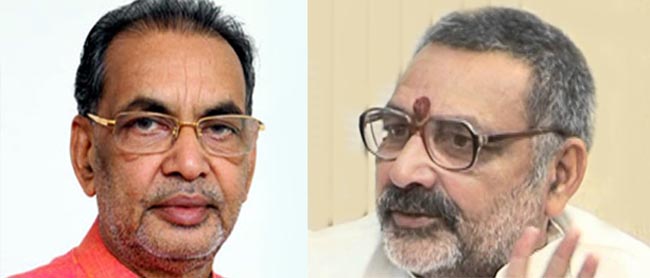 Patna,(BiharTimes): Prime Minister Narendra Modi has mastered the art of doing something unusual.
When rumours were doing the rounds in Bihar that Giriraj Singh may be dropped from the Union cabinet––not only because of his lackadaisical performance––but because of the alleged surfacing of his name in the infamous Rs 1,000 crore Srijan Scam of Bhagalpur, the prime minister chose to sack Rajiv Pratap Rudy. In his place he inducted two BJP ministers from Bihar––Raj Kumar Singh and Ashwini Choubey. The Janata Dal (United) was left high and dry.
JD(U) has another reason to be upset too. Some of its leaders were expecting that the prime minister may get rid of RLSP leader and minister of state for HRD, Upendra Kushwaha. But no such thing happened.
Former bureaucrat Raj Kumar Singh was not only the district magistrate of Samastipur when the then BJP leader L K Advani's Rath was stopped and arrested at the order of the then CM, Lalu Prasad, but as a Union home secretary, he oversaw alleged saffron terror cases involving blasts in Malegaon, Samjhauta Express, Ajmer Dargah, Makkah Masjid etc in which most of the victims were Muslims and had courted controversy by releasing names of some suspects.
It was during his tenure as the Union home secretary that Mumbai attack convict Ajmal Kasab and Parliament attack convict Afzal Guru were hanged.
But after his retirement he joined the BJP in 2013 and got ticket from Ara. He became MP. But he publicly criticized his own party for giving tickets to many people having criminal past in the 2015 Assembly election. Yet today, the talent-starved BJP had to induct him as the minister of state.
In contrast Ashwini Choubey is an RSS man. Though from Bhagalpur, this big-mouthed BJP leader was made to contest from Buxar, the neighbouring constitutency of Ara. He too won. But he had a running battle with many BJP leaders of both Bihar and Centre.
The situation turned so bad that he was stopped from entering Amit Shah's April 14, 2015 rally at Gandhi Maidan organized on the eve of B R Ambedkar's 125th birth anniversary. The humiliated MP had to go and sit with the crowd.
His condition was worse than another party MP Shatrughan Sinha, who was not extended invitation.
Choubey, who is a minister now, is like Giriraj Singh, a very bitter critic of Bihar chief minister Nitish Kumar. Mark it Nitish chose to sack all the 11 ministers of the BJP, including Choubey on June 16, 2013, when the latter was struck in a devastating cloud burst in Uttarakhand and lost seven members of his family. He never forgave Nitish for backstabbing not only his party, but him personally when he was in so much trouble.
Anyway, political analysts in Bihar, failed to make out any meaning from the September 3 cabinet rejig.
Dropping a Rajput minister and inducting a Rajput and Brahmin may soothe the upper castes, but no message for the backwards, especially Koeris and Kurmis, who were looking forward.
As R C P Singh and Santosh Kushwaha, whom the JD(U) wanted to be inducted into the cabinet come from these two castes––on whom Nitish relies so much––today he is feeling somewhat cheated.
Another real non-performer who remained in the ministry is Agriculture minister Radha Mohan Singh. He was touring his own constituency in Chamapran when farmers were dying in police firing and agitation in Madhya Pradesh.
Incidentally, while other ministers were speaking on the issue he was virtually traceless.
Similarly, victims of flood in his native place kept ringing him to seek help. But he did not respond. Not only that the prime minister did not even bother to make an aerial survey of Champaran belt, which like Kosi region, too was devastated by flood.
Though everyone is aware of the plight of farmers, especially after demonetization, yet Radha Mohan appears to be a great survivor.