Patna,(BiharTimes): After the 'denial' of berth to Janata Dal (United) apologists in the media as well as Janata Dal (United) are working overtime to cook up stories of different tastes and flavours.
JD(U) leaders, who were hand-in-glove with the mediapersons in getting 'news' planted about the likely induction of R C P Singh and Santosh Kushwaha are now coming up with a variety of excuses. They are now stating that prime minister Narendra Modi would make another cabinet reshuffle and induct ministers from alliance partners Shiv Sena, AIADMK, Janata Dal (United) and may be a few other parties. May be there are many more 'non-performing' ministers in the big Narendra Modi ministry.
So by that logic R C P Singh and Santosh Kushwaha can still hope of becoming ministers.
The other version is that actually Narendra Modi was never going to induct any JD(U) leader in his ministry immediately after the latter joining the NDA. Thus all the above stories were highly speculative.
It is argued that how could Modi have given RCP a cabinet berth––possibly Railway Ministry, as the stories were doing round––when IAS, IFS and IPS officers many years senior to him, were made minister of state.
Not only that all the four inducted had a much illustrious career than RCP. Raj Kumar Singh retired as home secretary of India while Hardeep Puri was India's envoy to the United Nations.
Regarding Santosh Kushwaha, the less said is better. When the rumours were doing the round that he would be inducted into the cabinet a political commentator said: "Theek se vidhayak banne ke layak nahin hain, lekin Kendra mein mantri banne ja rahe hain (He is not fit to be an MLA but he is likely to be made a minister)."
Actually he was a BJP MLA, but on the eve of Lok Sabha election did something unusual. He left the saffron party to join JD(U). Nitish Kumar who was badly in need of a Kushwaha candidate gave him ticket. Santosh defeated the sitting BJP MP, Uday Singh, brother of former bureaucrat and ex-Rajya Sabha MP of JD(U), N K Singh.
Thus apart from Nalanda, Purnea was the only seat won by the JD(U).
As Nitish wants to keep his Kurmi-Koeri base intact he might have been preferred over more experienced face like Harivansh, a Rajya Sabha MP and a former editor of Prabhat Khabar.
Today RCP and Santosh may have been sulking in private as they were left high and dry after so much media speculations. "There would have no problem had so much expectation not been created," said an analyst.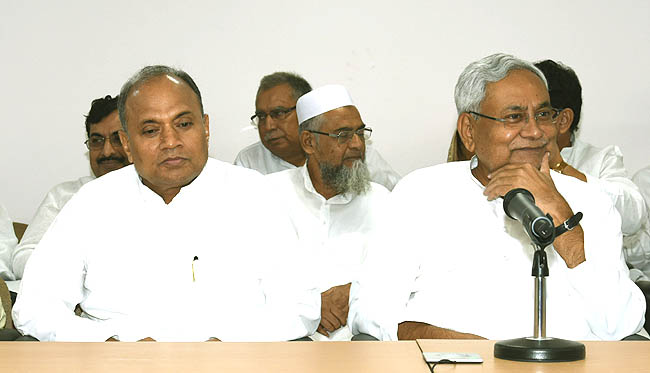 However, there appears to be another angle widely speculated in the media; that is, Nitish himself does not want to see such a meteoric rise of RCP, who has suddenly become too big for his boots.
A 1984-batch UP cadre IAS officer R C P was principal secretary of chief minister Nitish Kumar till he resigned to become the Rajya Sabha MP of JD(U) in June 2010. He had also served as special secretary of Nitish, when he was the Railway Minister. That may be the reason for JD(U) eying for this portfolio.
But as there is no permanent friend or foe in politics the same Nitish, it is said, would not like RCP to outsmart him. He clipped the wings of Sharad Yadav last year and got the latter removed from the post of party president. Today the veteran Socialist, who more than a quarter century back pleaded for Nitish to be inducted in the Union cabinet, is now on the way out of the party