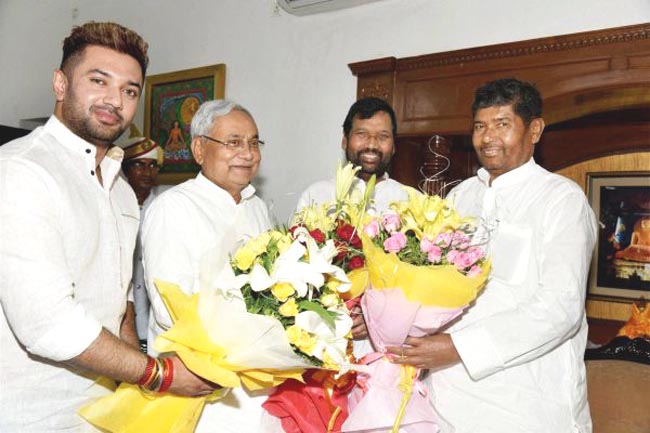 Patna,(BiharTimes): The yardstick adopted by politicians to measure the political morality of the rivals keep changing.
Both chief minister Nitish Kumar and BJP bigwigs, had on a number of occasions in the past, flayed and ridiculed Lok Janshakti Party leader Ram Vilas Paswan for promoting family rule. But once he joins the NDA the same Paswan becomes the man of great virture who have sacrificed everything for the cause of the country in general and Dalits in particular.
Thus the 'only' man in Bihar who is promoting corruption and family rule is none else but RJD chief Lalu Prasad Yadav.
Keeping this in mind the youngerst brother of Ram Vilas, that is Pashupati Kumar Paras, was on Monday nominated to the Bihar Legislative Council on Governor's quota.
Mind it three out of six MPs of LJP are from the same family. They are Ram Vilas, his brother Ram Chandra Paswan and his son Chirag Paswan.
A day after Chirag's nomination a PIL was filed in the Patna High Court questioning the very move. The Governor nominates only those who have made some special constibutions to the society in any field.
The big question is what type of contribution Paras has made to the society?
"If promoting family rule and losing Assembly election from one's own seat is a contribution than Paras deserves a place in the Upper House of the Bihar Assembly," commented an analyst.
The petitioner M P Singer, while raising the issue, called it a violation of Constitution.
Though it is upto the High Court to take any decision on PIL the big question is: had Nitish Kumar or BJP any moral right to criticize the family rule of Lalu Prasad or for that matter Rahul Gandhi or anyone else.
Unlike others, who have at least won election, Paras is the man who got elevated when he lost the Assembly election.
"After all we are living in a different era, when you come to power in spite of losing election. See what happened in Goa and Manipur. Even in Bihar the BJP and LJP came to power 20 months after suffering humiliating defeat in the election. So what is wrong if Paras becomes animal husbandry minister even after losing the election," a Bihar-watcher said.
In fact the Lok Janshakti Party had won two seats in the 2015 Assembly election. But none of these two MLAs was made minister as they were said to have criminal past.
But a bigger poser is: can anyone having criminal past be given ticket to contest Assembly election? Why this question came up only at the time of becoming minister?