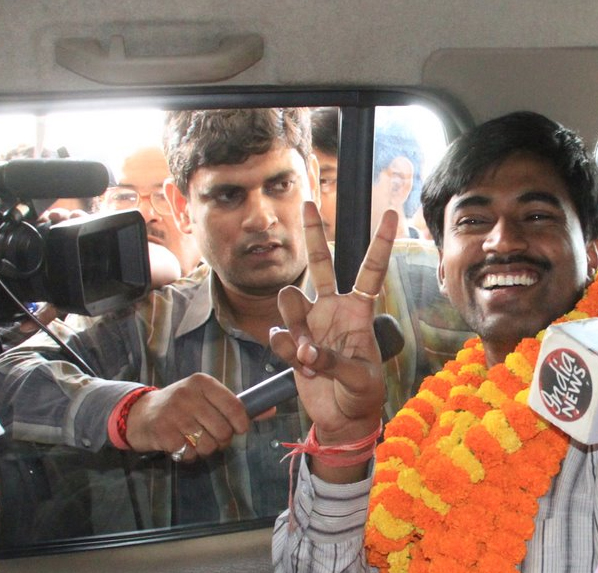 patna,(bihartimes): though sushil kumar, the winner of the fifth season of kaun banega crorepati (kbc) in 2011, is going to join the job of teacher yet he deied that he is running sort of money.
he had recently cleared the bihar government's teachers eligibility test (tet).

according to earlier, media reports sushil had spent the entire cash received as prize money in building a house, purchasing a plot and investing the rest in fixed deposit account and that he was hunting for a job.
however, the motihari-based sushil was quoted by news18 as saying: "i left the job after winning the kbc challenge. i got 3.8 crore in cash after deduction of taxes. i built a house in which my parents and four brothers live together. i also provided financial assistance to my relatives to start their own business and invested the rest of the amount as fixed deposits."


"i am an educated person and not a fool. it's true that i spent the prize money generously but i am not facing any financial crisis," he further said.
when asked why he opted to sit for the tet, he said, "i am doing social works and teaching needy students. my wife inspired me to become a teacher. so i decided to apply for the tet. i am happy to clear the test. i scored 100 marks out of 140".

sushil is the creator of champaran cycle sangh which inspires people to use bicycle as a mode of commuting. "i am doing by bit for environment and feel happy to see the response. i will continue to work as a social worker even after joining a school," he said.
get paid for amazon product reviews
i redeemed multiple gift cards but i only received one virtual item. what happened? i can't find the gift card redemption page on my video game console. where can i redeem my gift card?
get paid for amazon product reviews
there are no products in this category. there are no
get paid for amazon product reviews
there are no products in this category. there are no