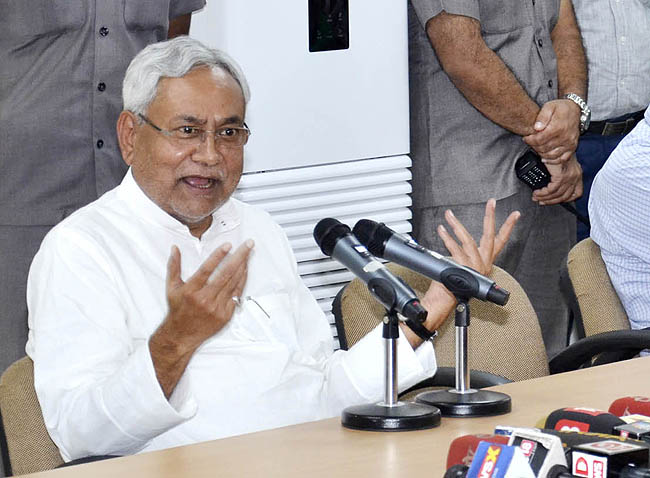 Nitish Kumar must have realised by now that his 'ghar wapsi' hasn't helped him. The BJP is treating him more like an unwanted guest than the repentant prodigal son.

The Bihar Chief Minister's sense of being redundant in the BJP's scheme of things is likely to intensify in view of the reports that the BJP intends to contest 25 of the 40 parliamentary seats in Bihar in 2019, leaving a paltry nine to the Janata Dal-United.

Of the remaining six, the BJP is considering giving four to the Lok Janshakti Party of Ram Vilas Paswan, another somewhat morose camp follower of the saffron brotherhood, and two to Upendra Kushwaha's Rashtriya Lok Samata Party (RLSP).

If this kind of seat-sharing really does take place, then Sharad Yadav may well have the last laugh. His glee will be shared by Lalu Prasad for more than one reason.

First, the Rashtriya Janata Dal (RJD) leader knows that he will be able to present the downsizing of Nitish Kumar in the saffron camp as an insult to Bihar.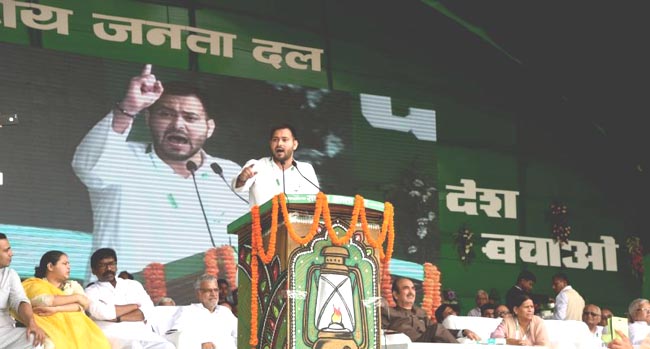 Secondly, Lalu Prasad is aware that the more Nitish Kumar sinks in public estimation, the greater will be the RJD's gain.

The only way out for the Chief Minister is to focus on development. Considering, however, that 'vikas' is Narendra Modi's trump card, the BJP will take care to project any sign of growth in Bihar as the Prime Minister's achievement rather than the Chief Minister's.

Therefore, Nitish Kumar can be said to be caught between a rock and a hard place.

On one side is the Modi-Amit Shah duo who are perhaps the most hard-boiled pair in the country today, combining their political and official clout with a highly effective publicity machine backed by scores of vitriolic trolls and abusive bloggers who saturate the Internet with their extravagant praise for Modi and venomous tirades against his purportedly anti-national and anti-Hindu opponents.

Nitish Kumar is hardly visible in the company of these boastful, swaggering allies.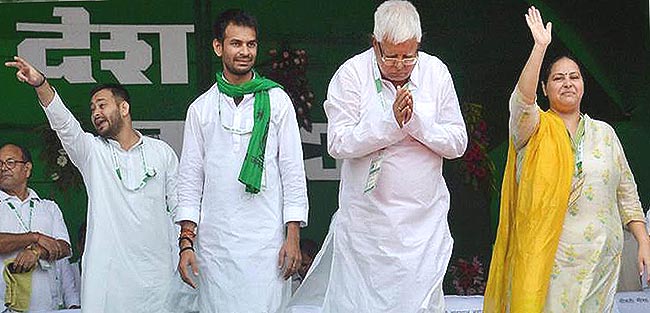 On the other side for him is the equally cunning and resourceful Lalu Prasad, whose self-confidence will be boosted by the possibility of the minorities turning to him in even greater numbers at a time when the Hindutva brigade is growing stronger in the absence of a major challenge from its adversaries.

As a result, Lalu Prasad's fabled MY (Muslim-Yadav) combination in Bihar comprising 16 per cent Muslims and 11 per cent Yadavs will be as stable as ever.

These supporters are unlikely to be bothered by the charges of corruption against father and son in the Yadav family. Lalu Prasad has successfully weathered such storms before, including being debarred from holding office, but his support base has remained solid.

The RJD may also be able to rope in a section of the Janata Dal-United who are with Sharad Yadav. If the latter's claim that 72 of the 125 national executive members of the party are with him is true, then Nitish Kumar may well think that he has made the biggest mistake of his life.

Even if the Chief Minister cannot be compared, as a commentator has done, with the other Kurmi leader in the BJP's company, Union Minister of State for Health and Family Welfare Anupriya Patel, there is little doubt that Nitish Kumar will continue to play second fiddle to Modi and Amit Shah in the foreseeable future.

His position may suffer a further decline if the BJP goes ahead with a rally of Kurmis to demonstrate that it doesn't want to depend only on Nitish Kumar to secure the votes of the Kurmis, who comprise six per cent of Bihar's population.

However, their traditional connections with the Koeris or Kushwahas (nine per cent) raises the voting percentage to a respectable figure.

In Modi's cabinet, Minister of State for Human Resource Development Upendra Kushwaha represents the Koeris. The Kurmis and Koeris are associated with Luv and Kush, the sons of Lord Ram.

For Nitish Kumar, who was considered to be prime ministerial "material" when in the "secular" camp not long ago, his present status in the BJP-led National Democratic Alliance (NDA) cannot be a matter of pride.

True, there is no final word in politics. If the economic slowdown, farmers' distress, the sense of insecurity among Muslims -- as noted by former Vice President Hamid Ansari -- and the belief among the so-called Left-Liberals that the country is becoming increasingly intolerant erode the BJP's support base in next year's assembly elections, then the BJP may lose some of its arrogance, thereby giving the likes of Nitish Kumar more political space.

But it goes without saying that he will find it extremely difficult to regain his earlier prominence in national life.

Instead, he will be seen as someone who was spooked by the RJD's formidable presence in Bihar to run for cover, presumably because the Janata Dal-United's own vote bank of Kurmis and a few other non-Yadav castes is not substantial enough.

(Amulya Ganguli is a political analyst. The views expressed are personal.)