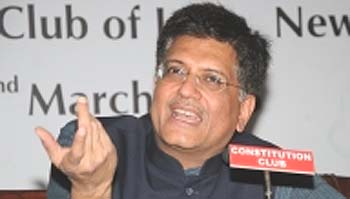 Patna,(BiharTimes): A few days after chief minister Nitish Kumar said that he would take up the matter with the Centre, Railway Minister Piyush Goyal on Thursday said the work on diesel locomotive factory at Marhowrah in Saran district of Bihar is on tracks.
Setting aside the speculation that the government might exit the project contract with US giant General Electric Goyal said in New Delhi that he had a discussion with top executives of GE to explore how the objectives of reducing pollution, bringing down overall cost and honouring agreements with it be met.
He said he also discussed as to how their locomotives could be useful for the railways, considering its emphasis on electrification.
The project, a joint venture between the Indian Railways and the GE, was announced in 2006-07 when Lalu Prasad was the Railway Minister in the UPA-1.
The plant would manufacture modern diesel electric locomotives of 4,500 HP and 6,000 HP to the railways.
The railways had issued the Letter of Award for setting up Diesel Locomotive Factory (DLF) with GE Global Sourcing India in November 2015.
However, after the emphasis on electrification a section of media reported that the railways might exit the contract for manufacturing diesel locomotives.
It is after this that Nitish, himself a former railway minister, said that he would take up the issue with Goyal.
Besides, he is aware of the political ramifications as well.