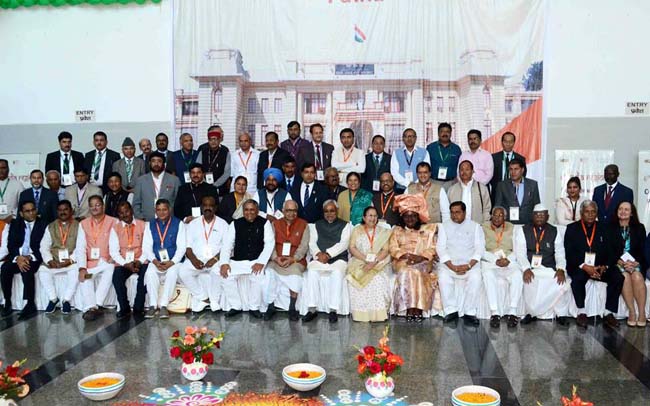 Patna, Feb 16 (IANS) A two-day conference of Commonwealth Parliamentary Association (CPA)-India Region will begin here on Saturday to discuss Parliament's role in the development, and legislature and judiciary as important pillars of democracy.

According to an official statement, Lok Sabha Speaker Sumitra Mahajan will inaugurate the conference here at Gyan Bhawan in Samrat Ashoka Convention Kendra, which will be attended by Chief Minister Nitish Kumar.

"Bihar Vidhan Sabha Speaker Vijay Kumar Choudhary will deliver the welcome address. Deputy Chief Minister Sushil Kumar Modi and Leader of Opposition Tejashwi Yadav will also grace the inaugural session to be attended by present and former MLAs of the Bihar legislature," the statement from the Lok Sabha secretariat said.

Chairperson of CPA Executive Committee Emilia M. Lifaka will also address the delegates, while Chairman of the Lok Sabha's Estimates Committee Murli Manohar Joshi and Minister of Law and Justice Ravi Shankar Prasad will deliver the keynote addresses at the two plenaries, respectively.

Bihar Governor Satya Pal Malik will address the valedictory session of the conference to be held on February 18 in Bihar Assembly.

The CPA is composed of over 180 branches formed in the legislatures of Commonwealth countries enjoying parliamentary democracy. All the CPA branches are geographically grouped into nine Commonwealth regions.

The CPA-India Region, which was earlier a part of the CPA-Asia Region, became an independent region from September 7, 2004. The India region of CPA consists of the India Union Branch (Parliament of India) and 31 State/Union Territory branches.

Such conferences of CPA-India Region are held once in two years. The 5th Conference was held in 2015 in Goa.