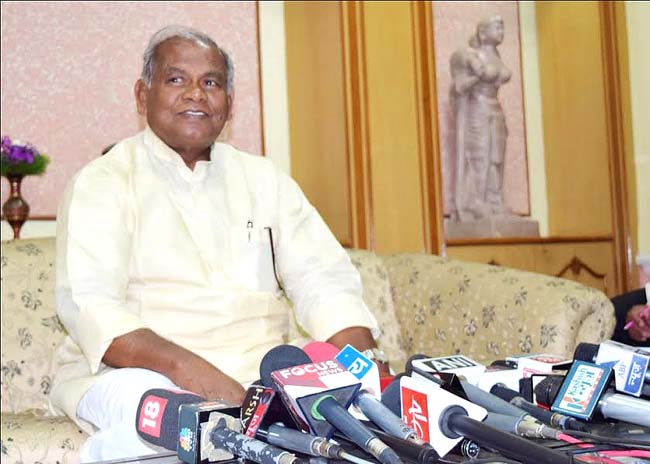 Patna, Feb 28 (IANS) Former Bihar Chief Minister Jitan Ram Manjhi's Hindustani Awam Morcha-Secular (HAM-S) on Wednesday night formally joined the Grand Allince, hours after he announced its exit from the Bharatiya Janata Party (BJP)-led National Democratic Alliance (NDA).

"HAM-S has joined the Grand Alliance after the top leaders of the party took a decision to this effect," Manjhi told at a joint press conference here, addressed along with former Deputy Chief Minister and RJD leader Tejashwi Yadav.

Manjhi also attacked the NDA and Bihar Chief Minister Nitish Kumar, who is also JD-U president, over what he called "failure of law and order, prohibition policy and implementation of schemes for poor and marginalised".

He also praised RJD chief Lalu Prasad, who is currently lodged in a jail in Ranchi following his conviction in two fodder scam cases.

"HAM-S will support the RJD and the Congress in the by-elections to one Lok Sabha seat and two assembly seats."

The Grand Alliance in Bihar now consists of the Rashtriya Janata Dal (RJD), Congress and the HAM-S. Besides, it also has a strong backing of the Janata Dal (United) faction led by Sharad Yadav.

Tejashwi Yadav, who is Leader of Opposition in Bihar assembly, said the Grand Alliance will be strengthened with the joining of HAM-S. "We will be stronger now and better placed to defeat the NDA."

Earlier in the day, Manjhi announced his party's exit from the NDA and said it would join the Grand Alliance in the state.

He said: "My party has quit the NDA and we will join the Grand Alliance. HAM-S has parted ways with the NDA."

Earlier in the day, Tejashwi Yadav and his elder brother and former Health Minister Tej Pratap Yadav met Manjhi.

Former Chief Minister and RJD chief Lalu Prasad's wife Rabri Devi said that Manjhi was feeling suffocated in the BJP-led NDA and that her party would welcome him in the Grand Alliance.

"We will give him the honour and respect he deserves," she said.

Manjhi had stepped out of the Janata Dal-United in 2015, formed HAM-S the same year and forged an alliance with the NDA ahead of the Bihar Assembly polls in 2015.