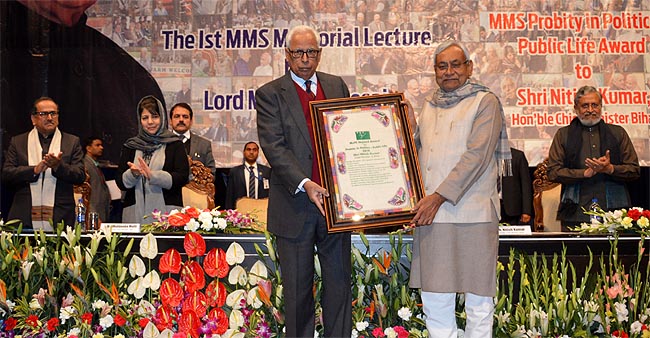 Jammu, Jan 8 (IANS) Bihar Chief Minister Nitish Kumar on Monday said that violence can never be a solution to any problem and all the issues should be resolved through dialogue.

He was speaking after receiving the first Mufti Muhammad Sayeed probity in politics and public life award at a function in Zorawar Singh Auditorium of Jammu University organized on the second death anniversary of late Jammu and Kashmir Chief Minister Mufti Muhammad Sayeed.

Governor N.N. Vohra presented the award to Nitish Kumar in presence of Chief Minister Mehbooba Mufti.

Nitish Kumar expressed gratitude to Mehbooba Mufti, daughter of Mufti Muhammad Sayeed, for the award saying that the award was an honour for people of Bihar.

British politician and economist, Lord Meghnad Desai delivered the first Mufti Muhammad Sayeed memorial lecture, while Vohra spoke about Sayeed's contribution towards development of the state.
Addressing party workers in Jammu city, Kumar said those in politics and public life should work with honesty. He stressed that the public has given us an opportunity to serve them and "we need to use it to work for their betterment."

Without identifying anyone, he said it was unfortunate that an atmosphere has developed in the country where politicians and those in the government forget to serve people and "they think they are there to only enjoy the fruits."

"Besides concentrating on overall development, we have to work for social reforms as well," Kumar, 66, said.

Underscoring the need for brotherhood and togetherness, the Bihar chief minister said: "We believe that when there is peace in society, it will move forward, and so the country."

"We have to work differently, ensure brotherhood and work for peace in society. We have to see how our efforts can benefit people, especially those on the (poverty) line."

Kumar was accompanied by Bihar Deputy Chief Minister Sushil Kumar Modi on his visit to Jammu and Kashmir.

He launched a website of the JD(U), assured the workers of his participation in the party convention in March-April, and of his full support to strengthen the party in the state.