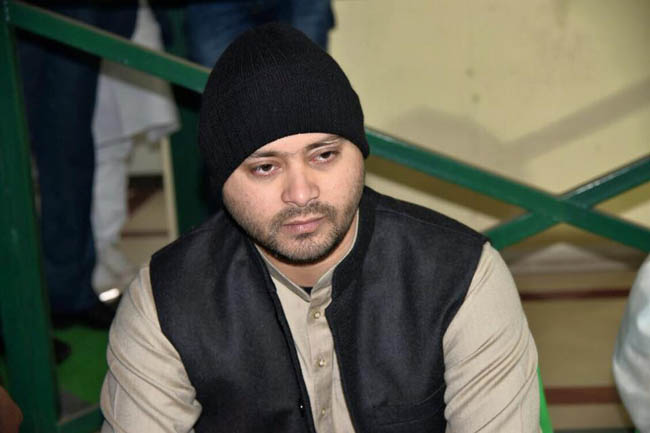 'No one is untouchable in Politics' goes the wisdom. Similarly, 'In Politics there are no permanent friends or foes' goes another. Yet, the leader of opposition in Bihar assembly, Tejashwi Yadav seems not impressed by any of these enlightened words.

Last week when Bihar CM Nitish Kumar phone call to ailing Lalu Yadav created a buzz of former's possible return to the Grand Alliance (GA), Tejashwi quickly shut the door of speculation of any such possibility.

Why Tejashwi was so impulsive in stifling any idea of having Nitish back in the Grand Alliance?

Firstly, the way Nitish unilaterally switched over to NDA on the basis of allegation of corruption on Tejashwi that too, after days of media trial in which JDU spokesmen added fury, was quite humiliating for the latter. The RJD sympathisers were furious because Tejashwi was minor and was not in politics in 2005-06, when the alleged deals were made.

"Charging Lalu Parsad who was then Railway Minister was understandable but how can a teenager's name be dragged and that too, a decade later", said an RJD leader.

Secondly, RJD has performed considerably well in recent by polls and the party is assured that their vote bank is intact. Tejashwi is feeling confident, as, in the absence of Lalu Yadav so far, he has been leading the party ably. Moreover, he thinks that he has gained valuable experience during his tenure as Deputy CM of the state, under Nitish.

Also thanks to Nitish, Tejashwi has added another feather in his cap of leader of opposition and apparently doing well. So, he is convinced that bringing Nitish back amounts no more than importing a Chief Ministerial candidate from outside.

More so, being a gen next leader Tejashwi thinks that the era of Nitish is nearing its end so there is no point in befriending him again.

Still, some political observers feel that leader of opposition and Chief Minister are poles apart in terms of responsibilities. Tejashwi, in spite of some qualities, lacks experience. So, if situation demands, he should wait for some time.

Indeed, by stonewalling any possibility of Nitish's re entry into Grand Alliance Tejashwi has weakened the JDU's bargaining position very much. According to a political analyst, Tejashwi's quick move narrowed Nitish's maneuvering as now he can no more create a confusion of crossing over to GA.