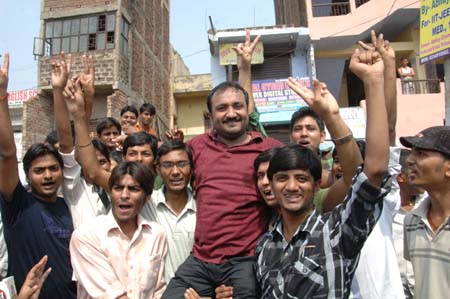 Patna: A public interest litigation was filed in Patna High Court on Wednesday seeking a Central Bureau of Investigation (CBI)probe into the functioning of Anand Kumar's Super 30, which helps underprivileged students to crack IIT entrance examination.
Patna High court advocate Manibhushan Pratap Sengar who filed a petion against Kumaralleges that Anand never releases the list of students before the IIT exam so it cannot be verified that those students who have qualified are the same ones who have studied at Super 30."Anand claimed some students as his own who were already studying somewhere else" Sengar added.
He also sought inquiry into the financial activities ,assets and transactions of Super 30 and the Ramanujan Institute of Mathematics at Kumhrar, Patna.Recently local media have reported about huge investments made by Kumar in real estate.
"Anand Kumar is fit to be prosecuted for forgery with the students and he has indulged in illegal economic affairs in interest of his personal benefits," the petition claims.
An India Today report revealed that only Onorjeet Goswami, Suraj Kumar, Yash Kumar and Suryakant – these students qualified for admissions into IITs by clearing the JEE Advanced examination. Suraj Kumar was reportedly enrolled to a coaching institute in Kota, Rajasthan but was falsely presented by Anand Kumar as one of his Super-30 students. However, no reaction came on behalf of Anand Kumar.
Local media reports revealed that Kumar is running another coaching institute by the name of Ramanujan School of Mathematics in Patna. He earned over Rs 1 crore last year by the means of admitting students into Ramanujan School of Mathematics and promising them a seat in his select Super 30 on the basis of performance at the other coaching institute, which is registered in the name of his mother and brother.