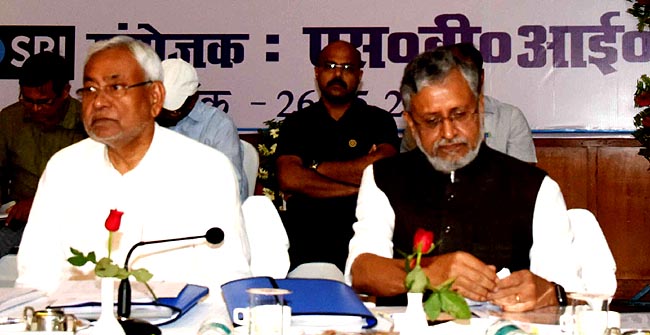 Having forced by aggressive BJP to play second fiddle since its return to NDA, JDU has been desperately yearning to regain its senior partner status that CM Nitish Kumar party had enjoyed in previous Bihar coalition.
On June 3, after a meeting at Nitish residence, JDU's general Secretary K. C.Tyagi through no-hold barred assertion that 'They would play the role of elder brother in the Lok Sabha Election' professed the underlying resentment.

Moreover, according to a Telegraph report, 'Nitish is upset over the fact that the centre sanctioned only 1700 crore for flood relief against his government's demand for Rs 7,636 crore. A minor issue like transferring railway land to state government to build a road has been left hanging. Nitish is also not satisfied with allocation of funds under the PM's economic package to Bihar. Most of all, JDU sources indicated, he holds BJP leaders responsible for complete alienation of the Muslims owing to aggressive Ram Navami Processions.'

Political pundits, however, point out that JDU's primary concern is to ensure respectable number of seats for the party in upcoming Lok Sabha election. JDU and BJP had fought on the formula of 26:14 in 2004 and 25:15 in 2009 parliamentary elections. However, in 2014 when JDU fought separately from NDA it could only bag two seats while BJP, LJP and RLSP together won 31 seats. True, JDU got only two seats in 2014 when it virtually fought alone yet, according to K C Tyagi, his party got 16% votes which is much higher than LJP and RLSP.

The timing of muscle flexing for JDU could not have been better given the fact that BJP is on its lowest ebb since its ascendancy to the reign in 2104. In Recent by poll NDA has lost 10 out of 11 assembly seats. Moreover, BJP is on the back foot due to surge in petrol prices. Farmers and Dalits are agitating against the Central Government.

More so, there is palpable tension within the NDA's partners. BJP's UP ally Suheldev Bhartiya Samaj leader Om Parkash Rajbhar targeted CM Yogi Adityanath on Kairana Lok Sabha by poll loss. He said that BJP lost the by election because backward castes were unhappy for Keshav Parsad Maurya had not been made the chief minister. Shiv Sena is quite vocal and consistent in its criticism of Central Government while staying in the alliance. Its old ally, Chandra Babu Naydu's Telugu Desham party has left the NDA. Naidu recently shared dais with opposition leaders on the occasion of oath taking ceremony of Karnataka CM, Kumaraswamy.

Beside, Nitish has been building up pressure on BJP for last few quarters. In last week of March he pronounced a veiled threat to BJP that he will not compromise with communalism after the name of Union Ministers Ashwini Kumar Chaubey and Giriraj Singh cropped up for allegedly inciting tension and violence during Ram Navmi. Since then he has repeated it on several occasions.

Whereas JDU has been every now and then raking up the issue of Special status for the state, the party has now decided to give it more impetus clearly to put pressure on BJP. "We will take our demand for special category status for Bihar further and more strongly. We are going to intensify it. After all, it is a question of Bihar's pride and there could be no compromise on it." K.C.Tayagi was quoted in Telegraph after coming out from the June 3 meeting.

Interestingly, in total contrast with his hitherto stand on demonetisation—after he being a rare few to support the PM Narendra Modi's demonetisation drive that too when he was in the opposition—Nitish has now raised question on the benefit of scrapping the 500 and 1000 notes.

Moreover, as I wrote here few days back that Nitish is trying to create a non BJP block within NDA to neutralise the Saffron Party. He has had reportedly several rounds of talk with LJP Supremo Ram Vilas Paswan and RLSP boss Upendra Kushwaha. Given the fact that Kushwaha has been hobnobbing with opposition RJD for quite some time, Nitish is aiming to shoot two targets with his single arrow. Along with bolstering the JDU's bargaining position within alliance the block may also ensure that RLSP's aspirations fulfilled. Hence, it may convince Upendra Kushwaha's party to remain in the NDA.

Notwithstanding the prospect that it is the junior partners in the alliance such as LJP and RLSP, which fought on 7 and 3 seats respectively in 2014 general election, would sacrifice a few seats for Nitish Kumar's party; the understanding among the JDU, LJP and RLSP will make the situation for the BJP trickier.

On the other hand, Kushwaha's crossing over to the RJD and Congress alliance, following in the footsteps of former CM Jitan Ram Manjhi, would be huge blow to the NDA. It will further shore up the winnability of Tejashwi Yadav led opposition that has recently snatched the Jokihat seat from JDU.