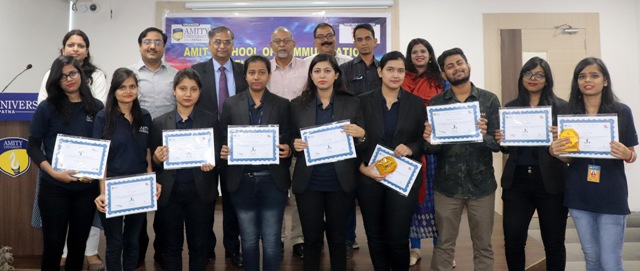 Patna 30 Nov: A photo exhibition "Amiclix-2018" was organised jointly under the banner of Amity University, Patna and Biharphotoproject. This exhibition is to showcase the work of the Students of 3rd Semester of the department of Journalism and Mas communication Amity, Patna.

This exhibition was Inaugurated by Dr. T R Venkatesh, VC, Amity University Patna. VC explained the importance of photo in media and day to life. He expressed his concern on the technological advancement in photography and stressed to be updated with these to be the leader in the field.

Pro VC Vivekanand Pandey praised the work and the dedication of the Mass com students for organising photo exhibition.
The exhibition was judged by jury Suman Srivastava, Senior Photographer and Manish Sinha, Photojournalist. They appreciated the efforts of students and their photographic sense. During the exhibition both the jury members interacted with the participants and enquired about their respective photograph to critically analyse their photographic skills.
Senior Photographer and Jury Suman Srivastava advised the students that in the changing scenario of media they must develop their photographic skill not only to judge the photograph but to grow in the career. Their Growth should not be techno oriented but they should grow aesthetically as well.
Photojournalist and Jury Manish Sinha shared his experience and explained the challenges of photojournalism. He said that photographs are important but not at the cost of your life, so he highlighted the basic characteristics of Photojournalist like.. Cool and Patient approach, Alert, Swiftness and passionates about their objective.
Program Leader and Faculty Shweta Priya praised the efforts of the students and their presentation. She appreciated the role of Mr.Prashant Ravi,faculty (Photography) for his actively association and guiding the students. She expressed her thanks to Prashant Ravi,Curator of Biharphotoproject, for organising successful photo exhibition jointly with Amity, Patna.
Please enable JavaScript to view the comments powered by Disqus.