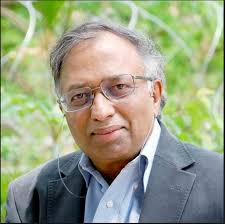 Patna:Noted computer Scientist, Father of India's first Super Computer"PARAM", Founder Executive Director of C-DAC, Govt. of India and Hon'ble Chancellor of Nalanda University, Nalanda Vijay P. Bhatkar, a has given his consent to deliver Inaugural Keynote in the 7th Bihar Science Conference 2018, scheduled to be held at College of Commerce, Arts & Science, Patna. on 4-6th December 2018. It was decided in a meeting with him in Pune with one of the patrons of BiharBrains and the conference organising committee team Dr. Prabhat Ranjan, Vice chancellor of D.Y Patil International University, Pune on 6th September. It was announced by Tapan Kumar Shandiliya, Principal of College of Commerce Patna.

"This is indeed very good news for Bihar and the participants of the conference. His guidance and support may pave the path for entrepreneurship in IT and Electronics industry in the state", said Bibhuti Bikramaditya, Chairman of The B.Brains Development Society.

Prof. Prabhat Ranjan, Vice Chncellor of D.Y.Patil International University Pune and former exective director of TIFAC,Govt. of India, New Delhi said that Nalanda has been associated with past glory of not only Bihar but whole of India. Dr Bhatkar as Chancellor of "Nalanda University" can play an important role in not only rejuvenating Science in Bihar but also play a nuclear role in revamping STI in India. Hearing his views would be critical for all of us interested in Science.

On behalf of Global Scientific Council of BiharBrains Society, Prof. Dolly Sinha Pro Vice Chancellor of Patna University expressed her satisfaction on Dr. Bhatkar's decision to deliver keynote. She said that BiharBrains has started praiseworthy series to give platform to the local academicians to interact with high profile scientists of India and abroad thru this conference. This will certainly pave in ameliorating R&D environment in the state.

Dr. Bhatkar is a Padma Bhushan, Padma Shri and Maharashtra Bhushan awardee.Indian computer magazine Dataquest has placed him among the star pioneers who shaped India's IT industry. He is currently working on the developing Exascale supercomputing mission for India. It was at his initiative, effort and vision that several national institutions, notably amongst them being C-DAC, ER&DC, IIITM-K, I2IT, ETH Research Lab, MKCL and India International Multiversity, were created.
The other renowned scientist who have slready given their consent are

Prof. MS Swaminathan,Father of India`s Green Revolution ( Thru Video Conferencing ), Prof. Prabhat Ranjan, VC, D.Y.Patil International University, Pune, Dr. R.K.Kotnala, FNASc,FIGU, Raja Ramanna Fellow,DAE, Prof. Bhaskar Choubey, Chair - Analogue Circuits and Image Sensors Faculty IV, University of Siegen, Germany, Prof. Avinash C.Pandey, Director, Institute of Inter Disciplinary Studies, University of Allahabad,

Dr. Jitendra Kumar, Managing Director, Bangalore Bio-Innovation Center, Dept. of IT, BT and S & T, Govt. of Karnataka, Bangaluru, Prof. Sujit Kumar, Research Scientist, University of the Sciences, Philadelphia, USA, Dr. Manis Kumar Jha, Principal Scientist, Metal Extraction Division, National Metallurgical Laboratory, Jamshedpur., Dr. Mukesh K. Gupta, Associate Professor & Head, Dept. of Biotechnology & Biomedical engineering National Institute of Technology, Rourkela, Dr. Dhanajay Kumar, Geophysicist, chevron,USA, Dr. Mahesh Kolekar, Dept. of electrical engineering, IIT, Patna, Prof. H.C Verma, famous write of Book, "Concept of Physics" and ex-profoessor of Phyiscs, IIT Kanpur who got Maulana Kalam Aazad award by Govt. of Bihar.

This three days International science conference will be expecting around 1000 participants from parts of India and abroad. The last date of online abstract submission is 30th October 2018 and full paper submission is 10th November 2018. www.biharbrains.org/scienceconference .

The conference will give five young scientist award, 20 best presenter award (in oral and poster category) and Aryabhatta Samman for Scientific Excellence which will be conferred to those who played significant role in scientific advancement for India and the world, said Dr. Santosh Kumar, organizing secretary of the event.