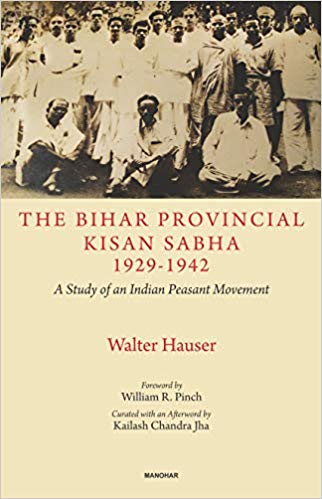 When the agrarian distress is firmly taking up the centre of the national discourse, the recently published Provinical Kisan Sabha 1929-1942' : A study of an Indian peasant movement by Walter Hauser gives a special insight to agrarian churning in its historical background specially in reference to Bihar.
This book is based upon Ph d dissertation of Hauser in 1960 at the university of Chicago. Since then a lot of scholars and academicians who had been working on Swami Sahjanand or peasant movement have consulted his thesis for the research purpose.
Interestingly, Hauser's thesis became the reference point on this subject but unfortunately the thesis couldn't be published for some reasons. After a gap of around sixty years, Walter Hauser's dissertation, which was available for select few, had been brought in public domain in a form of a book.
This book consists of five chapters, 'The Agrarian condition of society' 'Formation of the Bihar Provincial Kisan Sabha', 'Character of the Movement' , 'The Bihar provincial Kisan Sabha' and the congress' and 'National politics and the decline of the Bihar Kisan Sabha'.
The foreword has been written by one of his renowned disciple William R. Pinch and afterword by his long time associate Kailash Chandra Jha.
In the first chapter, Walter Hauser delineated the causes for the emergence of peasant movement or Kisan Sabha.
" The emergence of a strong peasant movement in Bihar, however, was not the result of the economic consequences of depression alone, as it was not a problem unique to Bihar. Rather the movement in Bihar was essentially a reaction to a harsh agrarian system which the ill-effects of economic depression served to aggravate" said Hauser.
There is lot of accusation leveled against the Bihar peasant movement terming it a movement largely dominated by one particular cast i.e. Bhumihars. Analyzing , the caste character of movement Hauser said" While most Kisan Sabha leaders were Bhumihars, so were most of the major Zamindars, including the ones who came under sharpest attack by the Kisan Sabha." He further added " Kisan Sabha did not have basic caste motivations throughout the period of its primary strength. It was essentially an agrarian agitation."
When Walter Hauser was doing his research he noticed that momentous change is undergoing in villages rather than urban areas.
As William R. Pinch says in his forward " We can thus easily imagine Walter's excitement when he came to Raghavpur (Bihta) in 1958 and glimpsed through the scattered papers in Sitaram Ashram, a word where change was being propelled not in urban centers but in village and countryside too.
Although Kisan Sabha was formed in 1929, but it gained momentum in 1930s with Swami Sahjanand Sarswati as its tallest leader.
It was the strength of Bihar provincial Kisan Sabha which catapulted him to become the president of All India Kisan Sabha formed in 1936 at Lucknow. And just after a year Congress ministry was formed in Bihar.
Support of Kisan Sabha was one of the crucial factor in Congress victory therefore it was natural for Kisan Sabha that it expected some concrete measures by its own ministry to alleviate the misery of Kisans. But the Congress party started backtracking from its earlier promises which it made out during the election campaign. This led the emergence of contradiction between Kisan Sabha and Congress.
Walter Hauser says, "The essential differences between the Congress view and that of the Kisan Sabha was again laid bare, for Kisan Sabha and the Left assumed that a as a mass political organ the Congress must necessarily serve the interests of the peasants first, and as Sahajanand put it, even at the cost of, and in spite of the rich, however , the agitation of the Kisan Sabha,which greeted the ministry compromise legislation expressed differences so precisely , or so hostilely from the point of view of the Congress, that restrictive measures were imposed on Sahajanand and on any other Congressmen engaged in Kisan Sabha activities.
In 1937, Sahajanand was banned by the district committees from touring in Saran and Champaran, and the Mongher . Congress committees also banned the activity of Congressmen in Kisan Sabha . Significantly these were the districts where Prasad (Rajendra) , Gandhi (Mahatma) and Sri Krishna Singh had much influence.
In the last chapter Walter Hauser has analysed the causes of decline and disintegration of Kisan Sabha and argued that his increasing contact with Communist literature and theoretical instead of practical concerns was the major reason of debacle of Kisan Sabha " At the point of political departure between Sahjanand and the socialists beginning in 1939, the issue involved a matter of support for the militant nationalism of Subhash chandra Bose.
From that position Sahjanand moved into the theoretical morass of Marx, Lenin and Stalin which he encountered in his 1940 imprisonment. The result was not always clear attempt to apply Marxism to Indian agrarian conditions and the more unfortunate adoption of CPI policy in relation to the national movement.
The shift of Bihar primary peasant leader from practical concerns with agrarian problems to a theoretical economic and political position which placed him a odd with the nationalism itself was a decisive factor in his political descent and decline of the movement he had created.
Reasons of decline, if seen from current perspective, it may be contested particularly his association with communists. From today's point of view the book have its limitations but it raises so many thought provoking questions that need to be answered even today.
The book also contains some very important historical documents of that period, in its appendix. Reading the books with these documents gives a clear picture of dynamics of peasant movement and its political ramifications.
Within last four- five years peasant question is increasingly coming to the centre stage in India politics therefore academic and activist world is taking keen interest in Swami's personality once again.
In the afterword Kailsh Chandra Jha himself pointed out this fact "Today, as the 2019 national general election approaches, all political parties in India are vying with one another to appeal to the nation's farmers and address agrarian issues. In current situation this book becomes more relevant for those who want to study the internal contradiction and different nuances of agrarian society of country as a whole.