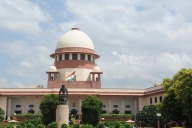 In a setback to around 3.5 lakh contractual teachers of Bihar, the Supreme Court today refused to regularise their jobs. The top court has set aside a Patna high court order that had directed the government to regularise their jobs in 2017. In its verdict, the Patna High Court had ruled "equal pay for equal work" for the contractual teachers working in the government schools of the state. The petitioners had argued that teachers appointed in primary, secondary and higher secondary government schools after 2006 were receiving a lower salary as compared to regular teachers appointed by the government previously. They had pleaded for a grant of a pay scale at par with teachers appointed under previous rules before 2006.
The Bihar government had, however, challenged the high court's verdict in the apex court.
The contractual teachers were hired on consolidated pay. They have been demanding equal pay and benefit for equal work.
In the high court, the petition by Bihar Secondary Teachers Struggle Committee and others had cited a 2016 ruling of the apex court that had observed that the state government was flouting the principle of equal pay for equal work in case of the contractual teachers.
In July last year, the Centre had supported the Bihar government's stand against the "equal pay for equal work" demand of the contractual teachers. The Central government had told the apex court that the procedure followed for the recruitment of contractual teachers was not at par with the mode followed for hiring the regular teachers. PTI had reported the government as saying that no recruitment examinations were conducted for hiring the contractual teachers.
"Procedure followed for the recruitment of Niyojit (contractual) teachers is not at par with the mode followed to recruit the regular teachers. There was no competitive examination conducted for the recruitment of Niyojit teachers. Niyojit teachers have not undergone any examination or selection process evaluating their respective merits," PTI had quoted the Centre as saying in an affidavit.
"The Niyojit teachers are the employees of local body institutions i.e. Panchayati Raj institutions/Urban local bodies zila parishad whereas the employer of the regular teachers is the state Education Department," it added.