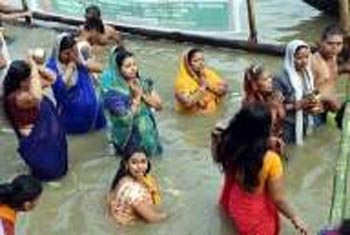 Patna, Nov 1: Hundreds of jail inmates including women and Muslims are among the devotees who are celebrating Chhath puja, the most auspicious festival of Bihar.

A good number of prisoners lodged in various jails across the state are celebrating Chhath puja with the active support of the jail authorities.

The superintendent of Khudiram Bose Central jail in Muzaffarpur, Rajiv Kumar told IANS that 111 inmates, including 60 men and 51 women, are observing fast this year and other inmates are helping them in the rigorous rituals.

He said a Muslim man and a Muslim woman are also performing Chhath puja in this jail and about 1500 odd inmates are helping them.

"Special cleanliness drive was conducted inside the prison. We have made arrangements to facilitate the puja by providing essential items like new clothes, fruits and other edible materials to the devotees. Arrangements have been made for even special chhath music, which you can hear across Bihar these days," said Kumar.

In Patna's Beur Central jail, more men devotees are observing the Chhath fast than women. Out of 50 inmates who are going through the rigorous rituals, 16 are women and 34 are male devotees.

"Chhath is the most revered festival of Bihar and once the prisoners expressed their willingness to celebrate it, we decided to fully cooperate with them. We made a temporary water pool inside the premises to facilitate the puja," said Beur jail superintendent Jawaharlal Prabhakar.

Motihari jail superintendent Suryanath Singh said that out of 1300 inmates here, 80 including 35 women, are observing Chhath puja. There are two Muslim women who are also observing the rituals. Devotees will be offering 'arghya' to the Sun God during the 4-day Chhath festival, he said.

Chhath puja is being celebrated in other central jails - Bhagalpur and Buxar as well.

The four-day festival is dedicated to the worship of the Sun God and his sister Shashti Devi, also known as Chhathi Maiya. Devotees thank them for the bounties of life. The rituals are rigorous and involve fasting, abstaining from even drinking water and standing in water for a long time. Devotees offer 'prasad' to the setting and rising sun.